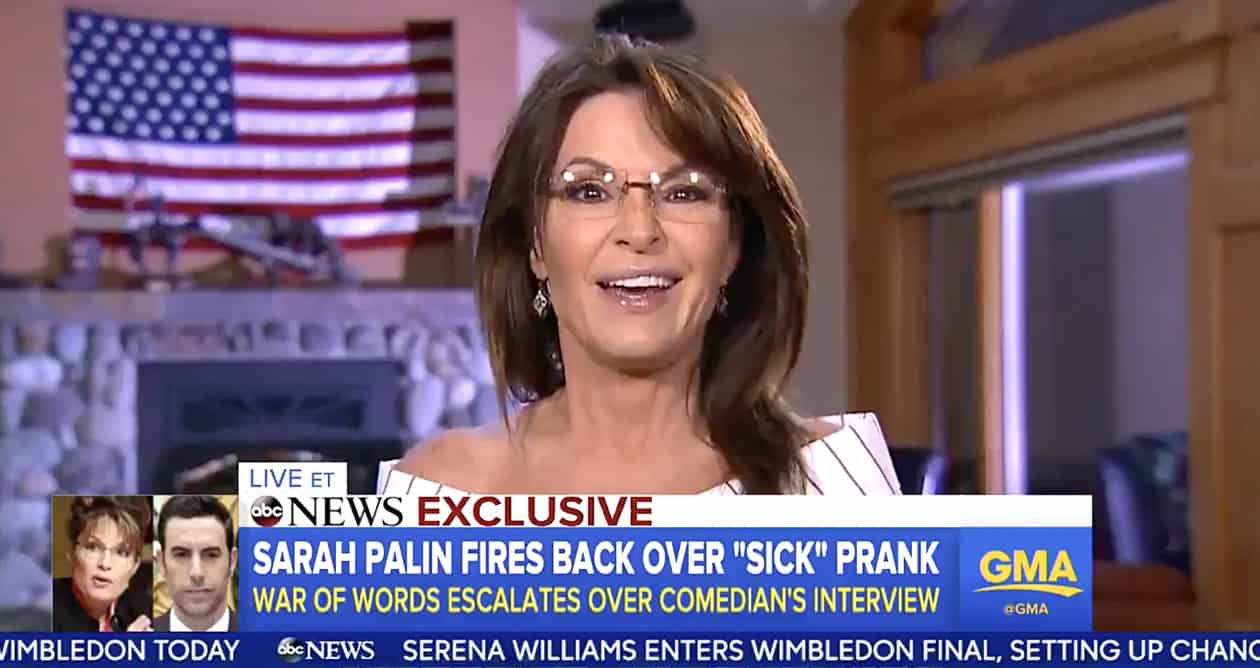 Sarah Palin appeared on Good Morning America to whine about being fooled by Sacha Baron Cohen for his new interview series on Showtime.
Said Palin: "He started showing me these graphs and statistics that had like typos in them and just didn't quite look right and part of this propaganda, this data that he was showing me, had something to do with sex changes and transgenderism and he brought up Chelsea Clinton and said she was a recipient of a government-funded sex change. It just got worse and worse and worse as the minutes went on in this bizarre, really embarrassing, humiliating interview."
Robin Roberts told Palin that "many share your outrage" and that Cohen's behavior "definitely crossed the line."
Watch:
Former Republican vice presidential candidate Sarah Palin speaks out exclusively to @GMA about being "duped" into a spoof interview with British actor Sacha Baron Cohen. https://t.co/5DDYuSVsRk pic.twitter.com/HA5aR5Q511

— ABC News (@ABC) July 13, 2018
Cohen responded to Palin's outrage in a tweet issued by Dr. Billy Wayne Ruddick Jr, his conservative, MAGA-loving persona in which he demanded an apology.
Said Cohen (Ruddick): "I am Dr. Billy Wayne Ruddick, founder/ceo/accountant of Truthbrary.org and it was I that interviewed you. I did NOT say I was a War Vet. I was in the service — not military, but United Parcel, and I only fought for my country once – when I shot a Mexican who came onto my property. (Coincidentally, just like our Great President, I was sadly prevented from joining the regular army on account of bone spurs bein discovered in my testies.)
Added Cohen(Ruddick): "I have always admired you for TELLING THE TRUTH about Obama's birth certificate and the location of Russia. But ma'am I do believe you have been hit by a bullshit grenade and are now bleedin' FAKE NEWS."
He concluded: "You used to hunt the most dangerous animals in the country, like wolves and people on welfare. So why hunt a fine citizen journalist like myself? I DEMAND AN APOLOGY."
Here's the truth @SarahPalinUSA 🇺🇸 #MAGA #buildthewall #boycottsashacohen pic.twitter.com/iFZWrFTxWL

— Billy Wayne Ruddick Jr., PhD (@BillyWRuddick) July 12, 2018