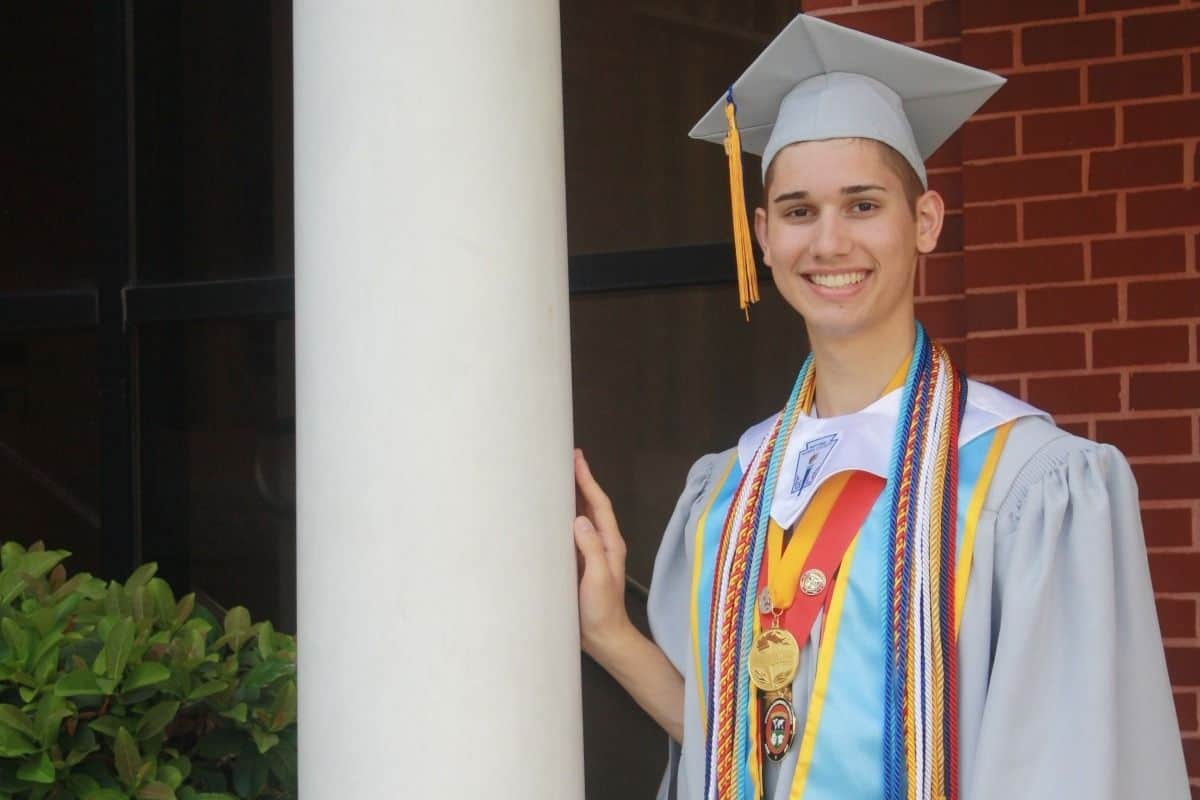 Last Friday we reported on the story of Seth Owen, an 18-year-old gay teen from Jacksonville, Florida and the co-valedictorian of his high school class, who was thrown out of his home earlier this year by his parents after refusing to abide by their religion.
Seth told News4Jax that his parents discovered he was gay after seeing a photo on his phone. After that, they began demanding he attend a church that has anti-LGBTQ views and sent him to counseling: "They made it clear the intention was to make me straight. (That) was their end goal."
Seth maintained a 4.16 GPA despite being homeless and was trying to raise the funds to attend Georgetown University.
A former teacher, Jane Martin launched a GoFundMe campaign for Seth's tuition and that campaign has now raised more than $116,000 after Owen's story made national headlines. You can find it HERE.
Seth and Jane reacted to the outpouring of funds with an update last night, and used it to draw attention to the plight of those less privileged, calling attention to the high rate of homelessness in the black LGBTQ community, and the violence and discrimination faced by transgender people of color.
They wrote:
A note from Jane (and Seth):
In late June, I started this crowdfunding campaign for Seth Owen, my bright and audacious Georgetown-bound student who had been left homeless after enduring conversion therapy and an receiving an ultimatum from his ultra-conservative parents.
Seth, the co-valedictorian of his graduating class, had been living with friends since February. Georgetown University had denied his appeals for more financial aid given his change in circumstances and with almost all options exhausted, he had decided to move with our family to Boston to take a gap year.
In just a few weeks, Seth's campaign has gained more traction that any of us ever imagined. My inbox is overflowing with messages of support, media requests, and donation notifications, but what sticks out most is the messages I have received from LGBTQ students from around the country whose stories are all too similar to Seth's.
I met Seth four years ago in my biology classroom in Jacksonville, Florida. I was a second-year teacher and he was a bright-eyed freshman with his eyes set on success. That school year, I started our school's first gay-straight alliance (a club Seth would later lead in his junior and senior years). Like many others in the LGBTQ community in the South, Seth and I shared similar experiences of ostracism in our families and communities. In that, however, we also recognized our privilege we held as white, cisgender, middle-class individuals. As this campaign takes off and continues to spread around the world, we want to use our privilege to shine light on the realities of this situation.
The reality is that Seth's story isn't unique. LGBTQ youth account for 40% of the homeless teen population. In fact, black youth who identify as LGBTQ have the highest rates of homelessness. Seth was fortunate in his situation that he had a myriad of mentors and friends willing to support and house him during his difficult time. Not all share that privilege and struggle to find safe spaces to exist after becoming homeless.
The reality is while Seth's story is getting coverage and he is receiving immeasurable recognition by the media, transgender people of color are getting murdered, misgendered, and also overlooked by the same media. In 2018, at least 16 transgender people have been murdered. Jacksonville alone has seen the murder of three trans-identified women this year: Antash'a English, Celine Walker, and Cathalina Christina James.
The reality is that Seth has a strong chosen family and support network, but so many others don't. According to the HRC's Youth Report, 42% of LGBT youth say the community in which they live in is not accepting of LGBT people. In the high school Seth attended, he had a gay-straight alliance, mentors, and friends who accepted him as an out and proud gay male student. This is unfortunately not always the case in schools around our country.
While it seems appropriate to shower Seth's supporters with gratitude (and we are eternally thankful for your support), I instead want to implore you to continue your allyship offline in your own communities. There are voices and stories who deserve to be amplified, uplifted, and supported just as much as Seth's story. There are organizations working to provide resources, safe spaces, and support to LGBTQ students who need funding and volunteers. Find those voices and organizations. Invest in them and help make our nation a little brighter and inclusive for all.