GOOGLE DOODLE OF THE DAY. Celebrating Mister Rogers: 'On this date, September 21, 1967, 51 years ago, Fred Rogers walked into the television studio at WQED in Pittsburgh to tape the very first episode of Mister Rogers' Neighborhood, which would premiere nationally on PBS in February 1968. He became known as Mister Rogers, nationally beloved, sweater wearing, "television neighbor," whose groundbreaking children's series inspired and educated generations of young viewers with warmth, sensitivity, and honesty.'
JANE FONDA. Not proud of her plastic surgery…
MITCH MCCONNELL. His vow to the Values Voter Summit: "You've watched the fight, you've watched the tactics. But here is what I want to tell you, in the very near future Judge Kavanaugh will be on the United States Supreme Court.
MICHELE BACHMANN. Jesus sent Donald Trump. "Two years ago, I believe that the prayers that God's people made to ask God for his provision were heard. They were heard and granted and for two years, we have lived in an unparalleled golden time in the United States. We have a president who has made the most pro-life actions of any president ever. We have a president who has been the most pro-Israel president ever in the history of the United States of America. Our president has put the United States on a pathway of blessing. We have the most pro-religious liberty president in the history of the United States, ever! Do you see what a golden day that we have been given? On every possible level, America is killing it. We are doing great in every possible metric, and I believe that's because God's people utilized the tool that he gave us."
https://www.youtube.com/watch?v=dbsnqj6aar8
BIG DONOR. Bill Maher donates $2 million to House and Senate Democratic SuperPACs: 'Maher, the outspoken host of HBO's "Real Time with Bill Maher", donated $1 million each to House Majority PAC and Senate Majority PAC on August 20. Though Maher sometimes writes smaller checks to candidates, he has not made a political donation in the six-or seven-figure range since the 2012 elections. Then, he donated $1 million to a super PAC supporting President Barack Obama's reelection, according to Federal Election Commission records.'
FORCED APART. Gay couple may have to live in separate countries after denial of visas from UK and US: "Brian Page, 41, from North Carolina, United States, has failed to get an extension to his UK visa after his latest appeal to the Home Office failed. That means he will be unable to live with his husband Benjamin Page, 36, from Milton Keynes, who is unable to move to the US after receiving a ten-year ban for overstaying."
EARTH, WIND & FIRE. It's the 40th anniversary of this classic, and the 21st of September. "We went through all the dates: 'Do you remember the first, the second, the third, the fourth … ' and the one that just felt the best was the 21st," co-writer Allee Willis told NPR in 2014. "I constantly have people coming up to me and they get so excited to know what the significance was. And there is no significance beyond it just sang better than any of the other dates. So … sorry!"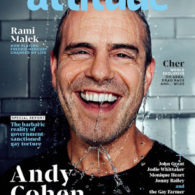 ON THE RAG. This week on the gay magazines…
ON A LEASH. Zachary Quinto and Miles McMillan take their dog for a walk in NYC.
CELINE DION. Back in the studio…
TRAILER OF THE DAY. The Oath. 'A controversial White House policy turns family member against family member in THE OATH, a savagely funny dark comedy about surviving life and Thanksgiving in the age of political tribalism. When Chris (Ike Barinholtz), a high-strung 24-hour progressive news junkie, and his more levelheaded wife Kai (Tiffany Haddish) learn that citizens are being asked to sign a loyalty oath to the President, their reaction is disbelief, followed by idealistic refusal. But as the Thanksgiving deadline to sign approaches, the combination of sparring relatives, Chris's own agitation and the unexpected arrival of two government agents (John Cho and Billy Magnussen) sends an already tense holiday dinner gathering completely off the rails.'
TECH REVIEW OF THE DAY. Marques Brownlee reviews Apple Watch Series 4.
MUSIC VIDEO OF THE DAY. Years & Years "All For You".
FRIDAY FALL FLASH. Takarid.