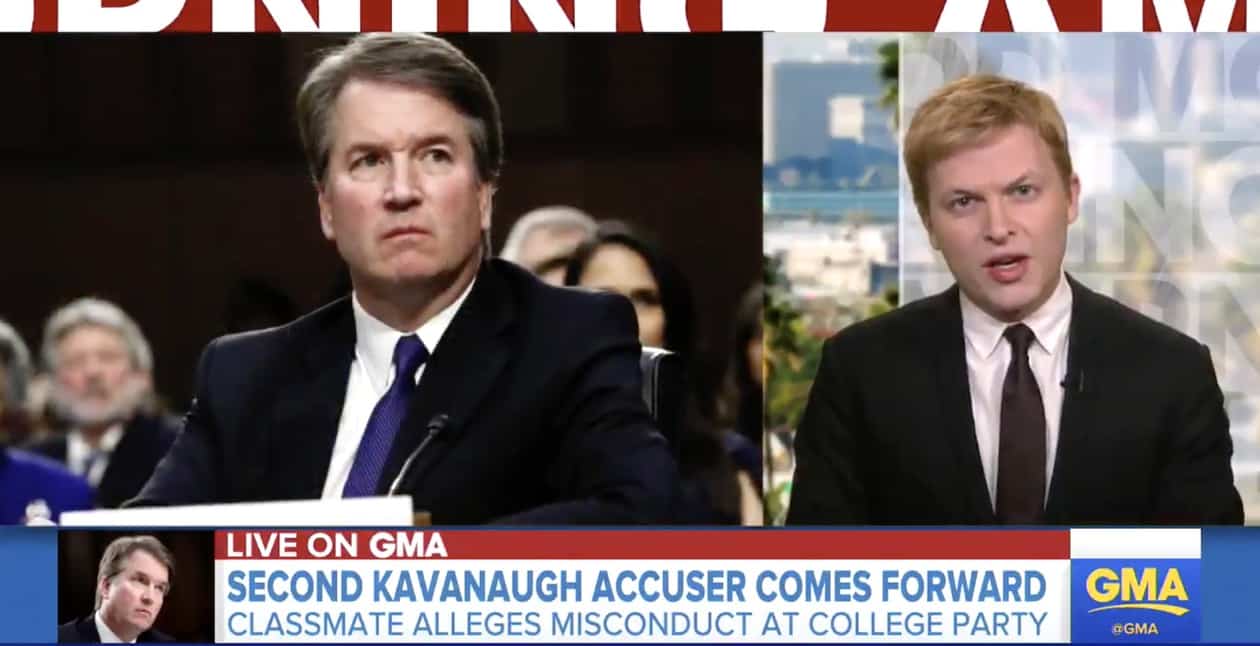 The Brett Kavanaugh SCOTUS nomination has been hit with another sexual assault allegation from Deborah Ramirez, who attended Yale with Kavanaugh and told her story to The New Yorker's Ronan Farrow.
Ramirez was drinking while the incident happened, however, "Ramirez said that she felt confident enough of her recollections to say that she remembers Kavanaugh had exposed himself at a drunken dormitory party, thrust his penis in her face, and caused her to touch it without her consent as she pushed him away."
Farrow reports that the incident took place during a drinking game in a suite at Lawrance Hall, in the part of Yale known as Old Campus:
A third male student then exposed himself to her. "I remember a penis being in front of my face," she said. "I knew that's not what I wanted, even in that state of mind." She recalled remarking, "That's not a real penis," and the other students laughing at her confusion and taunting her, one encouraging her to "kiss it." She said that she pushed the person away, touching it in the process. Ramirez, who was raised a devout Catholic, in Connecticut, said that she was shaken. "I wasn't going to touch a penis until I was married," she said. "I was embarrassed and ashamed and humiliated." She remembers Kavanaugh standing to her right and laughing, pulling up his pants. "Brett was laughing," she said. "I can still see his face, and his hips coming forward, like when you pull up your pants." She recalled another male student shouting about the incident. "Somebody yelled down the hall, 'Brett Kavanaugh just put his penis in Debbie's face,' " she said. "It was his full name. I don't think it was just 'Brett.' And I remember hearing and being mortified that this was out there."
Ramirez acknowledged that there are significant gaps in her memories of the evening, and that, if she ever presents her story to the F.B.I. or members of the Senate, she will inevitably be pressed on her motivation for coming forward after so many years, and questioned about her memory, given her drinking at the party.
And yet, after several days of considering the matter carefully, she said, "I'm confident about the pants coming up, and I'm confident about Brett being there." Ramirez said that what has stayed with her most forcefully is the memory of laughter at her expense from Kavanaugh and the other students. "It was kind of a joke," she recalled. "And now it's clear to me it wasn't a joke."
Kavanaugh denied the new allegations: "This alleged event from 35 years ago did not happen. The people who knew me then know that this did not happen, and have said so. This is a smear, plain and simple. I look forward to testifying on Thursday about the truth, and defending my good name—and the reputation for character and integrity I have spent a lifetime building—against these last-minute allegations."
Ronan Farrow spoke with George Stephanopoulos on Monday morning.
FULL INTERVIEW: @ronanfarrow on the bombshell new allegations from former Yale classmate against Brett Kavanaugh: "It is not accurate to say that those who knew him at the time dispute this." https://t.co/BbURHAQ6EE pic.twitter.com/pUznAxDdfC

— Good Morning America (@GMA) September 24, 2018
Said Stephanopoulos: "This jumped out at me. You said at first she wasn't sure if this was Kavanaugh last week, and you write after six days of carefully assessing her memories and consulting with her attorneys she did become confident that it was him."
Replied Farrow: "And I would say that's extremely typical with these stories when you are dealing with drama and alcohol. The more caution that I have dealt with in cases like this frequently say, I want to take time and search myself and make sure that I can affirmatively stand by these claims in the face of what she knew would be a crucible of partisan pushback which is what she is receiving now."
Asked Stephanopoulos: "Why did she come forward?"
Responded Farrow: "She came forward because Senate Democrats came looking for this claim. She did not flag this. This came to the attention of people on the hill independently, and it has co cornered her into an awkward position. She said, point-blank, I don't want to ruin anyone's life, but she feels this is a serious claim. She considers her own memories credible and she felt it was important to tell her own story before others did for her."