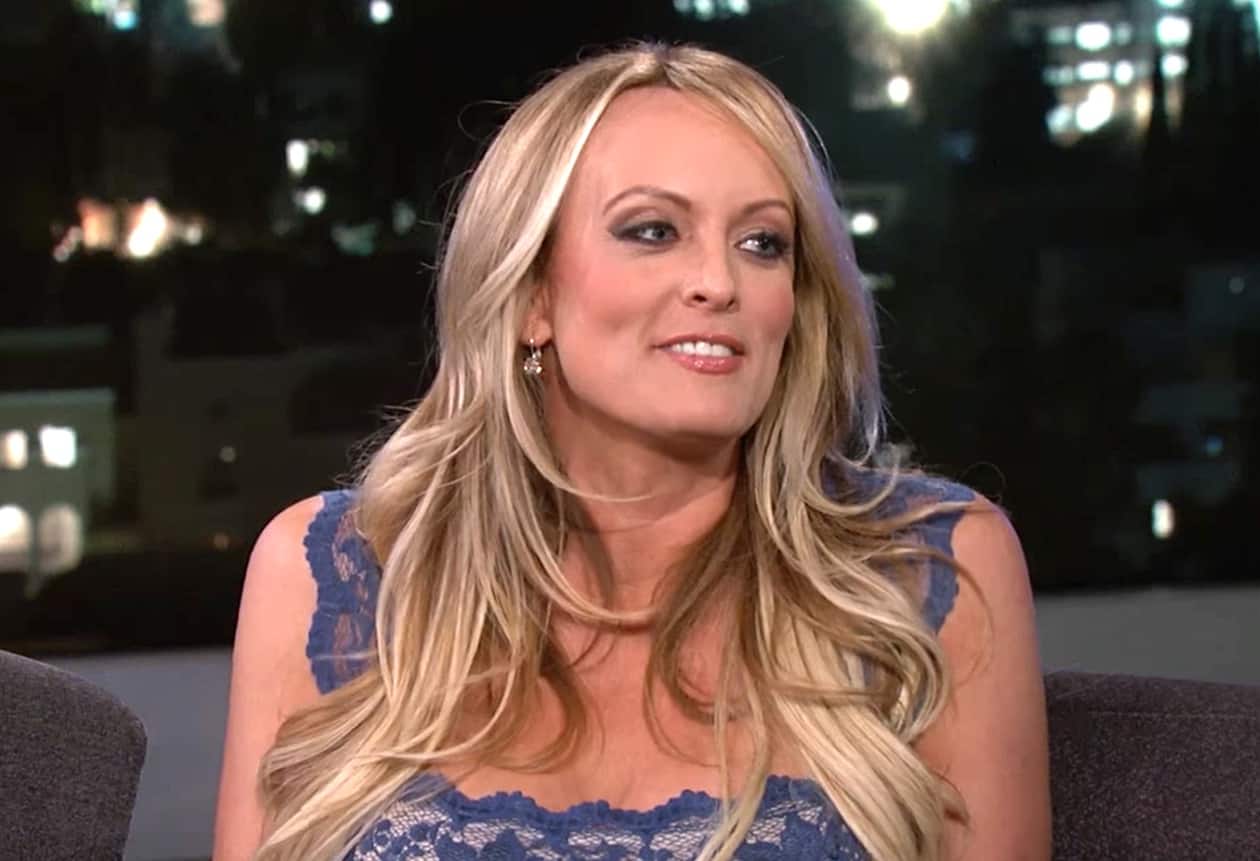 Keith Munyan and J.D. Barrale, longtime friends and business partners of Stormy Daniels who are sometimes referred to as her "gay dads," filed a police report this week after receiving a threatening text from Daniels' estranged husband Glen Crain.
Munyan and Barrale run Daniels' online merchandise store which took off after her feud with Trump began making headlines, and The Blast reports that "Stormy recently began accusing the guys of owing her money earned from operating the store, and has accused them of stealing around $25,000."
Daniels has also reconnected with Crain, according to the publication, and the two have a daughter together.
Munyan and Barrale reportedly went to the police after receiving the threatening text, which contained anti-gay slurs.
Read the text: "Guess what… Now you've f**ked with my daughters' money, which means you've now f**ked with me… Rest assured I will get that 25,000 back that you two FAGGOTS decided to keep for no other reason to spite Stormy… Trust me, your new 'Gold Digger' partner JD is the last of your problems now… That's my Daughter's money and I'm gonna take it out of your ASS…I WILL FIND YOU, AND YOU WILL BE DEALING WITH ME…"
The Santa Barbara Sheriff's Office released a statement: "The case is under investigation but at this time does not appear to rise to the level of a criminal threats case. The incident was documented and is still under investigation. Due to the ongoing investigation and the fact that there has been no determination of a crime being committed no additional information will be released at this time."
Crain later told The Blast that Daniels had nothing to do with the messages: "I want to make clear, what I said has nothing to do with Stormy and did not come from her…I am not homophobic and Stormy is not homophobic."
In response to press inquiries, note that that we have not yet confirmed whether any police report was filed last night naming Stormy or her husband. We ask that people reserve judgment until the facts are known.

— Michael Avenatti (@MichaelAvenatti) November 29, 2018
In related news, Daniels accused attorney Michael Avenatti of starting a fundraising site in her name without telling her and suing Donald Trump for defamation against her wishes.
Munyan and Barrale reached out to Avenatti, defending him in a statement to The Daily Beast: "What she has done to Michael Avenatti publicly she has done to us privately for the past month. What's happening to Michael Avenatti is wrong because he's so good to her. He's been the best thing that's ever happened to her."
The Daily Beast adds 'Munyan and Barrale estimate $30,000 was spent to launch the site, including expenses for materials, inventory and web design. "After her first brush with fame, the sales haven't been there for months," Barrale said of plummeting revenue. According to Barrale, Avenatti was not involved in the Stormy Store, but he and Munyan contacted the lawyer Wednesday after the Daily Beast's exclusive. They wanted to send Avenatti their information on the website. "I felt bad because he's been very supportive and helpful," Barrale said of Avenatti. "I think he's done an excellent job in representing her. In this process, we've come to know him and respect him."Daniels has accused Avenatti of failing to treat her "with the respect and deference an attorney should show to a client."'