RIP. Marvel Comics creator Stan Lee has died at 95: "Kirk Schenck, an attorney for Lee's daughter, J.C. Lee, confirmed to the Associated Press that Lee was declared dead at Cedars-Sinai Medical Center in Los Angeles."
DRAIN THE SWAMP. John Oliver points out that Trump has not, "he has not drained the swamp one little bit." "Trump never meant drain the swamp," and that's obvious "by what has happened since," Oliver said. "Because he promised to clean up D.C., and instead the guy in charge of the CFPB is holding hands with loan sharks, the EPA might as well be run by a sentient piece of coal, and his head of oil-rig safety wants the industry to blow up his digits like an under-regulated oil well."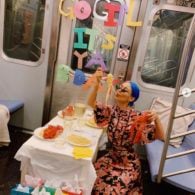 ANNOYING STRAPHANGER OF THE DAY. Woman throws herself birthday party on NYC subway.
HILLARY WILL RUN IN 2020. According to longtime Clinton adviser Mark Penn: 'In their Journal op-ed, Penn, an adviser and pollster to the Clintons from 1995-2008, and former New York City politician Andrew Stein wrote that in a 2020 run, Clinton would reinvent herself "as a liberal firebrand." The twice-failed presidential candidate would not "let a little thing like two stunning defeats stand in the way of her claim to the White House," they wrote.'
BUDDIES. Putin and Trump greet each other enthusiastically in front of NATO allies.
TRANSGENDER VETERANS. The VA should pay for our gender transition surgeries. 'Major medical associations have long affirmed the necessity of transition-related health care, including surgeries. But although the VA provides mental health counseling and hormone therapy to transgender veterans, it draws the line at surgeries—a regulation that has been critiqued by the American Medical Association, among others. That policy, formally implemented in 1999, has a widespread impact.'
ICE-T. I've never had a bagel or a cup of coffee in my life.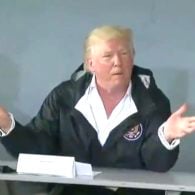 PUERTO RICO. Trump wants to cut off disaster funding: 'President Trump doesn't want to give Puerto Rico any more federal money for its recovery from Hurricane Maria, White House officials have told congressional appropriators and leadership. This is because he claims, without evidence, that the island's government is using federal disaster relief money to pay off debt.'
PUERTO RICO. David Burtka and Neil Patrick Harris celebrate the island's recovery at Dorado Beach, a Ritz-Carlton Reserve in Puerto Rico.
ABUSE OF POWER. Dems to investigate Trump's threats to CNN and Washington Post. 'House Democrats plan to investigate whether President Trump abused White House power by targeting — and trying to punish with "instruments of state power" — the Washington Post and CNN, incoming House intelligence committee chairman Adam Schiff said in an interview for "Axios on HBO."'
LIVERPOOL. Woman found dead in gay cruising area.
WORLD TREE OF HOPE. Help save it.
NAME CHANGE OF THE DAY. Kellan Hartmann is now Callum Huntsman.
A message from "Kellan Hartmann" and my decision to leave GayHoopla, HotGuysFuck and Blurred Media LLC. My new name within the industry is Callum Huntsman. @GayDemon @Queerclick @menofporn @waybig @Str8UpGayPorn pic.twitter.com/YwKYsczCFa

— Callum X Huntsman (@callumhuntsman) November 11, 2018
NEW TUNE OF THE DAY. Sam Dickinson "Wild Sun"
TEASER OF THE DAY. Toy Story 4.
MARINE MAMMAL OF THE DAY. A Mola Mola cleaning itself in the deep sea.
MUSIC VIDEO OF THE DAY. The Wanting "Dark Road".
MONDAY MUSCLE. Poshlutz.
https://www.instagram.com/p/BqCW7tGgGMX/