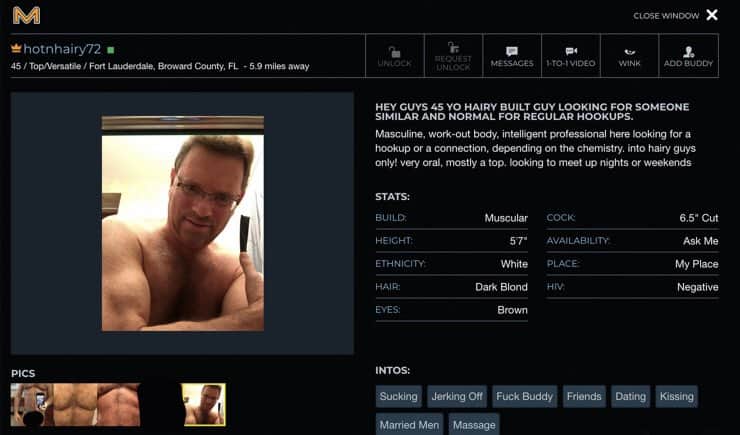 Norman Goldwasser, a notorious practitioner of harmful and useless "gay conversion" therapy has been outed as a user of Manhunt and BearNation by Wayne Besen at Truth Wins Out. Goldwasser has links to the "ex-gay" group JONAH.
TWO reports: 'Norman Goldwasser, by day, is an Orthodox Jewish therapist at Horizon Psychological Services who compares homosexuality to Obsessive Compulsive Disorder and misleads clients by claiming that their sexual orientation can be changed with his special brand of quack therapy, which is rejected by every respected medical and mental health association. By night, an undercover investigation by Truth Wins Out has found, he solicits sexual partners on Manhunt, a gay dating App, using the profile "Hotnhairy72." During our operation, Goldwasser, going by the pseudonym "Dave", offered to meet for sex with our operative, "Brandon," at a Fort Lauderdale motel room. Goldwasser also had a profile on Bear Nation by the same name.'
Said Besen: "Norman Goldwasser's double life of unconscionable lies highlights the rank hypocrisy and predatory nature of the fraudulent 'ex-gay' industry. We urge every state to ban the scourge of conversion therapy that attacks the mental health of LGBT youth and puts them in harms way…Goldwasser can't claim his personal life is none of our business when trying to 'cure' LGBT people is his business. Here is a case where a charlatan is committing consumer fraud by misleading clients and adversely affecting their mental health. We are particularly concerned when Goldwasser's scam preys on young people susceptible to his charade."
Adds TWO: 'Goldwasser has also funneled clients into the predatory and ineffective Journey into Manhood (JIM) program, where gay men are taken into the woods to participate in what are considered "manly" activities to change their sexual orientation from gay to heterosexual. They are also falsely diagnosed as having become gay because of poor parental relationships or not participating in sports. The program is controversial, because some who have attended JIM say the program includes bizarre and inappropriate cuddling sessions.'
Besen is the author of Anything Bust Straight: Unmasking the Scandals and Lies Behind the Ex-Gay Myth.
Read Truth Wins Out's full report HERE.