PETE DAVIDSON. SNL star under fire for mocking former Navy SEAL and Republican congressional candidate Dan Crenshaw's eye patch. Crenshaw lost his eye serving in Afghanistan in 2012.
OVERBOARD? House Republicans plead with Trump to dump racist immigration talk, turn to economy: "Many of them have cringed at Trump's threats to unilaterally end birthright citizenship, as well as his recent racially-tinged ad suggesting that immigrants are police killers. The president's drumbeat, they say, is drowning out news any incumbent president would be negligent not to dwell on: that the economy added a quarter-million jobs last quarter, and unemployment is below 4 percent.
REGRETTABLE TATTOO OF THE DAY. Gritty ass.
UNMOORED FROM REALITY. Trump's lies have become monstrous.
VOTER FRAUD. Trump ready to set this complaint in motion should Dems win.
Law Enforcement has been strongly notified to watch closely for any ILLEGAL VOTING which may take place in Tuesday's Election (or Early Voting). Anyone caught will be subject to the Maximum Criminal Penalties allowed by law. Thank you!

— Donald J. Trump (@realDonaldTrump) November 5, 2018
KANSAS. Governor Kris Kobach accepted thousands from white supremacists for more than a decade: 'Recent financial disclosures show that Kobach, a driving force behind dozens of proposals across the US designed to suppress minority voting and immigrant rights, has accepted thousands of dollars from white nationalists. Donors include a former official in the Trump administration who was forced to resign from the Department of Homeland Security this year after emails showed he had close ties to white supremacists and once engaged in an email exchange about a dinner party invitation that was described as "Judenfrei", or free of Jews.
VOTING VIDEO OF THE DAY. Brad Pitt and Leonardo DiCaprio.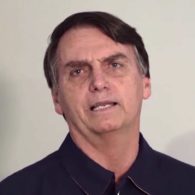 BRAZIL. As a gay man living in Brazil, I'm devastated we weren't able to stop Bolsonaro becoming president: 'We don't yet know exactly what Bolsonaro's Brazil has in store for us but minorities are understandably bracing themselves for the worst. The election has split open the cracks that already ran through Brazilian society and has divided communities that previously stood together. I do see hope though, in families like my husband's, families of ordinary Brazilians united in the belief that everybody should be allowed to live "a safe and simple life".
ALLY NEWS. Adam Lambert presented Imagine Dragons' Dan Reynolds with an award for his documentary Believer.
BALLET. These male dancers are rethinking masculinity.
TEXAS. Pornstaches for Beto.
AYDIAN DOWLING. Transgender model is now a dad too.
Antler Joseph Dowling
November 1, 2018
8lbs 12oz pic.twitter.com/IvicmXqyO6

— Aydian Dowling (@AydianDowling) November 4, 2018
WORMHOLE. Elon Musk shares video of The Boring Company's Hyperloop "disturbingly long" test tunnel.
— Elon Musk (@elonmusk) November 3, 2018
MACRO VIDEO OF THE DAY. Leafcutter ants.
NEW TUNE OF THE DAY. Ariana Grande "Thank U, Next"
MONDAY SMILE. Alex Wonderland.