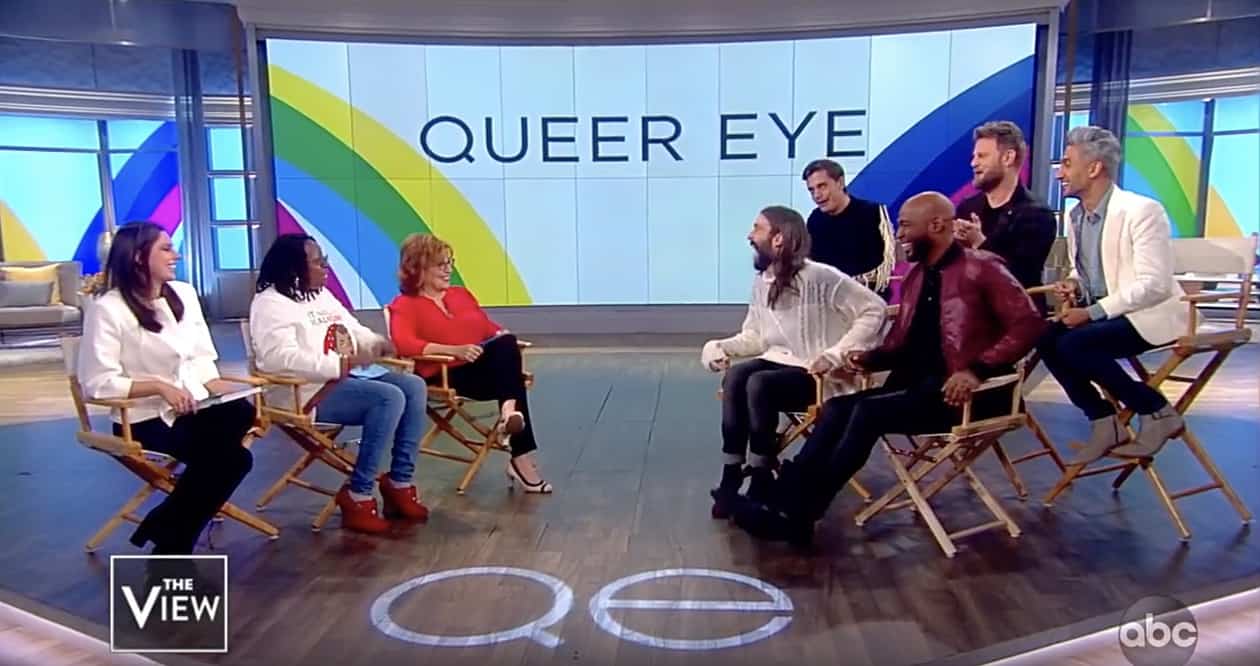 Queer Eye's Fab 5 sat down on The View today to talk about the impact their show has had, particularly in conservative America.
Joy Behar asked culture guru Karamo Brown  about working in Trump country, and specifically about a man who gave him a MAGA hat.
Replied Karamo: "I threw the hat away…but ironically, that guy and I, we are best friends….For five gay guys to go into rural America and feel as if we're making a change, it feels really good."
Added design guru Bobby Berk: "Having a preacher message me, slid into my DMs and said, 'my whole life I was taught in church that homosexuality is a sin, that they're pedophiles, that they're heathens, that they're definitely going to hell and that they choose to be that way and in turn my church I have preached the exact same way. And hearing you talk about how every single day of your life you cried and you begged and you pleaded and you prayed for God not to make you gay but you still are showed me that it isn't a choice and that you were born that way and I'll never preach that way in my church again.'" To hear that now little kids in that church aren't going to grow up and be taught to hate who they are, that's worth everything."
"We can't expect people to grow until we show them who we are," added Karamo.
Behar asked avocado guru Antoni Porowski to comment on the same-sex kiss in the Macy's Thanksgiving Day Parade, to which he replied: "I think it's a reminder that the rest of the country is not New York and we need to remember that."
"Why?" interjected Jonathan Van Ness. "I'm so done making the people feel comfortable."
Watch: