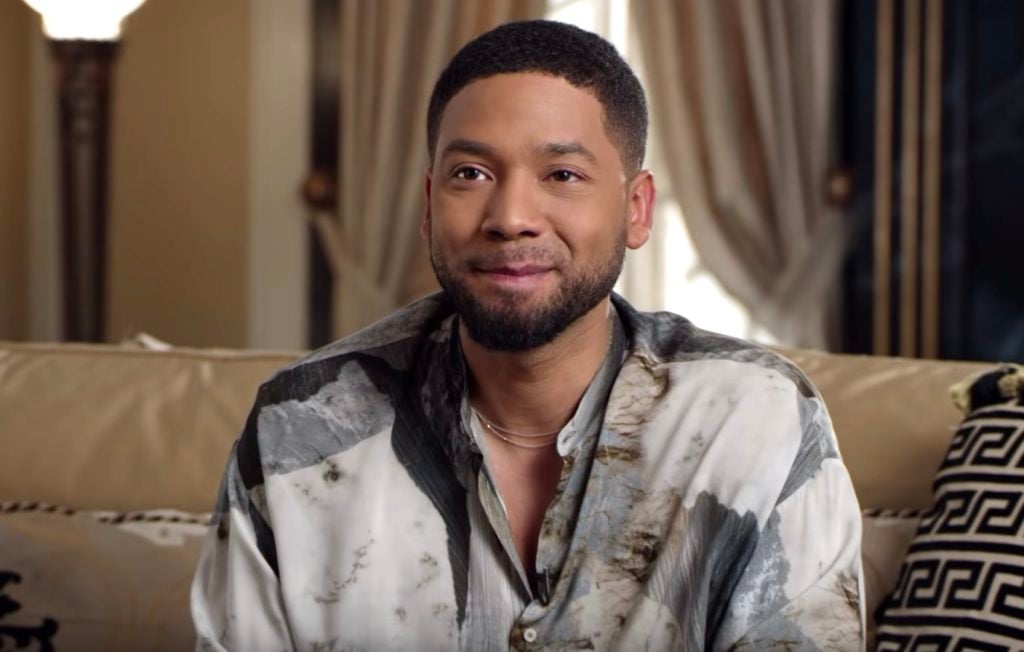 Empire actor Jussie Smollett was hospitalized and treated at Northwestern Memorial Hospital in Chicago after a violent attack which police are reportedly investigating as a possible hate crime.
TMZ confirmed the attack, which happened around 2 am on Tuesday morning, and reported that law enforcement sources told them the Chicago Police Department is investigating the disturbing incident as a possible hate crime: 'Sources directly connected to Jussie tell TMZ, the actor arrived in Chicago from New York late Monday, and at around 2 AM he was hungry and went to a Subway. We're told when he walked out, someone yelled, "Aren't you that f***ot 'Empire' n*****?"  The 2 men — both white and wearing ski masks — viciously attacked Jussie as he fought back, but they beat him badly and fractured a rib. They put a rope around his neck, poured bleach on him and as they left they yelled, "This is MAGA country."'
While the MAGA details and the nature of the chemical substance are not confirmed yet by an official report, HuffPost front page editor Philip Lewis and MSNBC producer Michael Del Moro tweeted out a statement from Chicago PD on the incident.
The statement from Chicago PD Chief Anthony Gugielmi reads: "Overnight the Chicago Police Department received a report of a possible racially charged assault and battery against a cast member of the television show Empire. Given the severity of the allegations, we are taking this investigation very seriously and treating it as a possible hate crime. Detecives are currently working to gather video, identify potential witnesses and establish an investigative timeline. The victim is fully cooperating with investigators and we ask anyone with information about this incident to contact Area Central Detectives at 312-747-8382 or report it anonymously to www.cpdtip.com.
The statement adds: "A 36 year old man was walking…when two unknown offenders approached him and gained his attention by yelling out racial and homophobic slurs towards him. The offenders began to batter the victim with their hands about the face and poured an unknown chemical substance on him. At some point during the incident, one of the offenders wrapped a rope around the victims neck. The offenders fled the scene. The victim self-transported to Northwestern Hospital and is in good condition. Area Central Detectives are investigating."
The tweets:
Audio of the emergency call placed after the attack can be heard HERE.
The website ThatGrapeJuice.net first reported the incident, saying that Smollett received a letter in the mail with a note on it which read "you will die black fag". The site added that Smollett was attacked "by two men in ski-masks. Both of whom placed a noose around his neck."
Developing (refresh for updates)….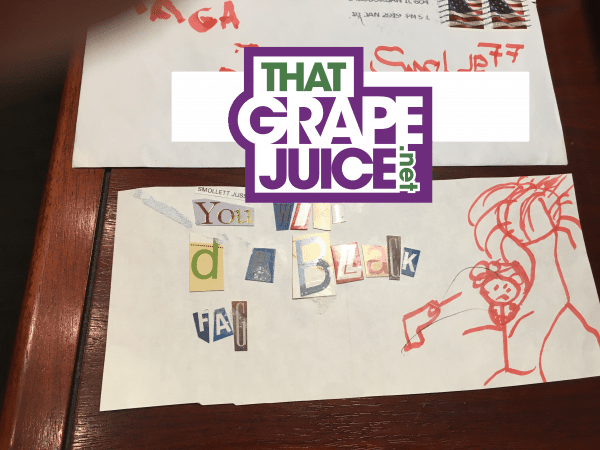 Reactions to the attack on Smollett began pouring out on Twitter: