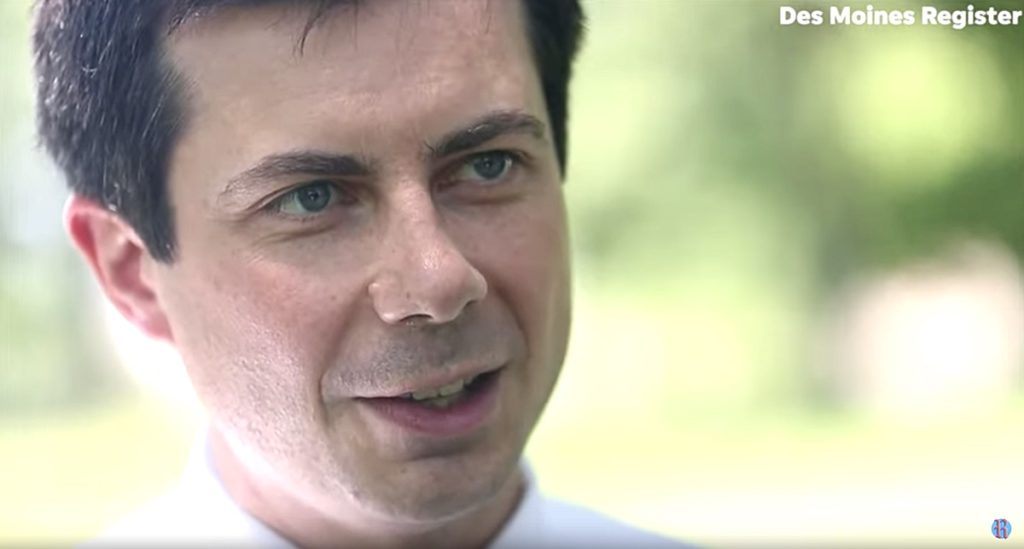 The New Republic took down a hit piece on Pete Buttigieg by gay novelist Dale Peck in response to outrage from readers and replaced it with an editor's note which read, "Dale Peck's post 'My Mayor Pete Problem' has been removed from the site, in response to criticism of the piece's inappropriate and invasive content. We regret its publication."
In the piece, Peck repeatedly referred to Buttigieg as "Mary Pete".
Wrote Peck: "Mary Pete and I are just not the same kind of gay. (For those of you wondering about 'Mary Pete': a couple of months ago I asked Facebook what the gay equivalent of Uncle Tom was, and this was the answer at which we collectively arrived)… Mary Pete and I have a lot in common, but at a certain point we came to a fork in the road and I took the one less traveled and he took the one that was freshly paved and bordered by flowers and white picket fences and every house had a hybrid in the driveway and some solar panels on the ceiling, but discrete ones, nothing garish, nothing that would interfere with the traditional look of the neighborhood or the resale value of your home."
Peck continued: "All this makes Mary Pete different from every other left-leaning neoliberal in exactly zero ways. Because let's face it. The only thing that distinguishes the mayor of South Bend from all those other well-educated reasonably intelligent white dudes who wanna be president is what he does with his dick (and possibly his ass, although I get a definite top-by-default vibe from him, which is to say that I bet he thinks about getting f**ked but he's too uptight to do it). So let's dish the dish, homos. You know and I know that Mary Pete is a gay teenager. He's a fifteen-year-old boy in a Chicago bus station wondering if it's a good idea to go home with a fifty-year-old man so that he'll finally understand what he is."
CNN's Brian Stelter got a statement from the magazine (below): "The New Republic recognizes that this post crossed a line, and while it was largely intended as satire, it was inappropriate and invasive."
The New Republic dropped out as co-host of a Climate Forum after the Buttigieg article was removed.
New Republic editor in chief Win McCormack apologized for the essay.
Wrote McCormack: "Yesterday The New Republic's website published an opinion piece about Mayor Pete Buttigieg that should not have appeared there. As The New Republic's owner, I want to extend our sincerest apologies to Mayor Buttigieg, as well as to our readers, for an article that was both inappropriate and offensive. It has been removed from our site. We have high standards at The New Republic, but sometimes we fall short. Yesterday we made a mistake, but we remain committed to honoring the tradition of high standards and journalistic integrity that have been the hallmark of The New Republic for more than 100 years. Please know that moving forward, we will do everything we can to prove that commitment to our readers and to the public."
Buttigieg told the AP's Andrea Jaffe: "I appreciated that [the] article was taken down. I don't think it really reflects the New Republic that I know."
He added: "But the most disturbing news story I saw yesterday was the Vice President's visit to those border facilities. There were people … being kept in absolutely inhuman conditions and where he [Pence] seemed totally unable to accept responsibility for the fact that this was happening on his administration's watch and that they could do something about it."
Asked to respond to the question of whether he's gay enough, Mayor Pete replied: "You know, there's not gonna be an answer for everybody. The best way I've found to deal with that is to just be myself and let other people worry about whether it's enough."
Twitter users had plenty to say about it – with a few more excerpts embedded in tweets below.