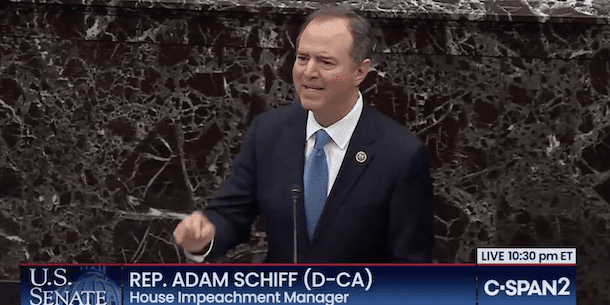 Democrats' lead House impeachment manager, California Congressman Adam Schiff, pleaded with GOP senators on Thursday night to vote in favor of convicting and removing President Donald Trump.
"If right doesn't matter, we're lost," Schiff said, concluding his eight-minute closing argument, at around 10:30 p.m. "If the truth doesn't matter, we're lost. The framers couldn't protect us from ourselves if right and truth don't matter, and you know what he [Trump] did was not right.
"No constitution can protect us if right doesn't matter any more, and you know you can't trust this president to do what's right for this country," Schiff added. "You can trust he'll do what's right for Donald Trump. … This is why, if you find him guilty, you must find that he should be removed, because right matters, and the truth matters. Otherwise, we are lost."
As of Friday morning, #RightMattersTruthMatters was among the top trending topics on Twitter. Watch the full speech below, and check out a few reactions.