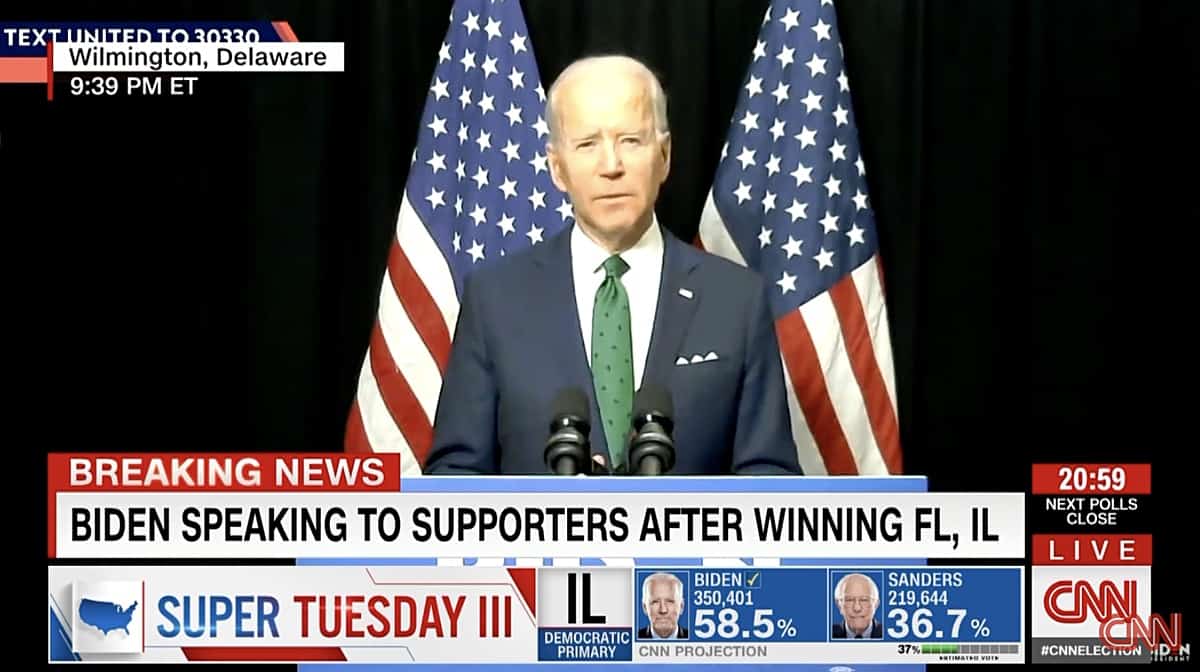 Joe Biden won the Florida, Illinois, and Arizona Democratic primary contests on Tuesday. Biden now has 1,147 delegates to Bernie Sanders' 861.
The NYT reports: "The routs in Florida and Illinois, two of the biggest prizes on the national map, represented both a vote of confidence in Mr. Biden from most Democrats, and a blunt rejection of Mr. Sanders's candidacy by the kind of large, diverse states he would have needed to capture to broaden his appeal beyond the ideological left."
Biden spoke from his home after the victories in Illinois and Florida. His speech was a somber statement about the coronavirus crisis.
Biden reached out to younger Sanders voters: "Our campaign has had a very good night. We've moved closer to securing the Democratic nomination for president, and we're doing it by building a broad coalition that we need to win in November. … Senator Sanders and I may disagree on tactics, but we share a common vision for the need to provide affordable health care for all Americans, reduce income inequity that has risen so drastically, to tackling the existential threat of our time, climate change. … Sen. Sanders and his supporters have brought a remarkable passion and tenacity to all of these issues. Together, they have shifted the fundamental conversation in this country. So let me say, especially to the young voters who have been inspired by Senator Sanders: I hear you. I know what's at stake. I know what we have to do."