Published by
AFP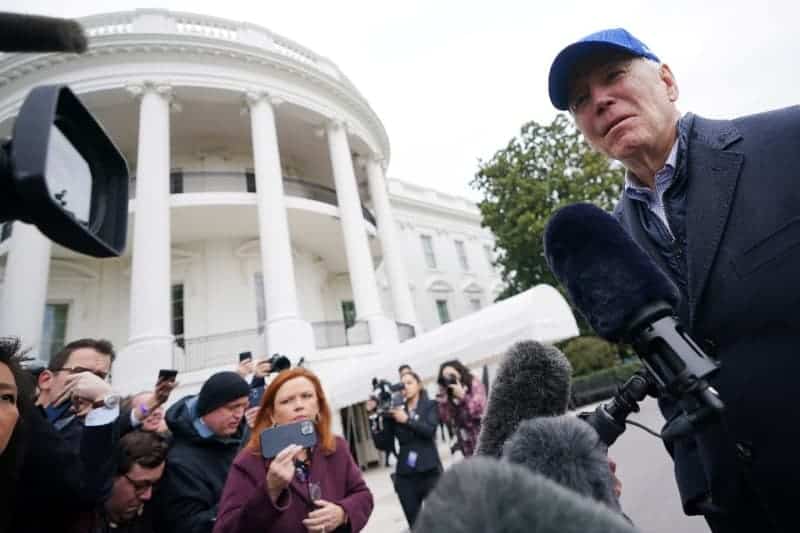 US President Joe Biden will have a huge audience in his State of the Union speech
Washington (AFP) – An optimistic President Joe Biden will seek to lift the spirits of a tense nation Tuesday with a State of the Union address showcasing his efforts to fire up the US economy — and demonstrating he still has what it takes to seek reelection at the age of 80.
After two years of managing the exit from the Covid pandemic, an end to the 20-year Afghan war debacle, the Western response against Russia's Ukraine invasion, and extreme US political tensions, Biden feels he has much to celebrate.
"I want to talk to the American people and let them know the state of affairs," Biden said Monday. "Just have a conversation with the American people."
On Capitol Hill, he'll address the full Congress, nearly every senior government member, and a vast television audience, buoyed by news that the economy is recovering strongly from the pandemic, with the lowest unemployment in 50 years.
"This is a president who is incredibly optimistic," White House Press Secretary Karine Jean-Pierre said.
Biden will tap into his powers of empathy — honed in a series of personal tragedies — and show his skill at "connecting with the American people," she said Tuesday on MSNBC.
"Joe Biden is known for doing just that and he is the best messenger in the White House," she said, "telling the stories of the last two years and, let's not forget, the optimism."
But the dramatic downing on Saturday of a huge Chinese balloon by a US Air Force fighter leaves the unstable relationship with the communist superpower literally looming over the Biden administration.
And there are troubles closer to home, with two new polls showing that well over half of voters do not want Biden, the oldest person ever in the presidency, to seek a second term in 2024 — and that includes members of his own Democratic party.
Biden spent the weekend at the presidential retreat Camp David, huddled with top advisors and speech writers to finesse the speech. Tweaks continued "until the last minute," Jean-Pierre said.
Early Tuesday, the White House announced the guests of First Lady Jill Biden for the speech. These include Ukraine's ambassador, Oksana Markarova and rock band mega star and HIV/AIDS campaigner Bono.
The most eye-catching, though may be Brandon Tsay, the  26-year-old man who disarmed the gunman in a January mass shooting in California, and RowVaughn and Rodney Wells, the parents of Tyre Nichols, a man whose death after a prolonged police beating in Memphis, Tennessee, shocked the nation.
Trouble ahead
For Biden, here's the good news.
Inflation, which just a few months ago seemed a near-existential threat to the Biden presidency, is steadily ticking downward. Hundreds of billions of taxpayer dollars are starting to flow out into programs passed under Biden to spur high-tech manufacturing and repair infrastructure.
On Friday, new figures showed joblessness hitting that half-century low. This inspired Biden to boast: "I'm happy to report that the state of the union and the state of our economy is strong."
Even if Biden has yet to formally announce his 2024 candidacy, the speech — followed by two very campaign-like trips Wednesday and Thursday to Wisconsin and Florida — is expected to give him a big push.
However, the Chinese balloon drama — Beijing claims it was an errant weather research balloon but the US government says it was a high-tech espionage device — shows how narratives in Washington easily take dangerous new turns.
When Biden speaks, half of the Congress members in the chamber, as well as Speaker Kevin McCarthy sitting directly behind him, will be Republicans vowing to use their new, narrow House of Representatives majority to block his policies.
"The state of the union is weaker and American families are suffering because of Joe Biden," Republican National Committee Chairwoman Ronna McDaniel said. "But all they'll hear from Biden are excuses."
Already, a major crisis is brewing over Republican refusal to extend the US debt limit, usually a rubber stamp procedure. Biden's government warns of financial calamity, with major international implications, if Republicans stick to their guns, potentially pushing the United States into default.
Those kinds of uncertainties, as well as doubts over Biden's ability to serve a second term that would end after his 86th birthday, may be partly to blame for pessimism in the polls. An ABC News-Washington Post Poll found that 58 percent of Democrats and Democratic-leaning independents said the party should find someone else for 2024.
In his address, Biden will seek to "meet the meet people where they are, understanding that they are still indeed struggling," Jean-Pierre said.