Published by
BANG Showbiz English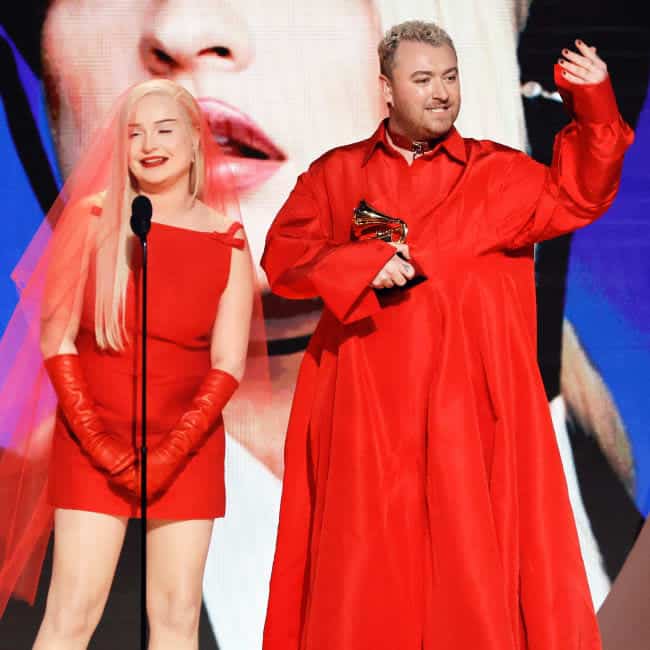 Kim Petras paid tribute to the "transgender legends" who "kicked the doors open" for her as she picked up her first Grammy Award on Sunday (05.02.23).
The 30-year-old singer and her collaborator Sam Smith scooped the Best Pop Duo/Group Performance accolade for 'Unholy' and the German star reflected on her history-making win as she gave an acceptance speech on behalf of them both, with the 'Stay With Me' hitmaker "graciously" offering the microphone to her for the full segment.
Standing next to Sam, Kim said: "Thank you so much, crazy. Sam I love you so much and this song has been an incredible journey for me. Sam has been a big supporter of me for a long time and Sam graciously wanted me to accept the award because I'm the first transgender woman to win this award.
"I just want to thank all the incredible transgender legends before me who kicked the doors open for me so I could be here tonight. Sophie especially, my friend who passed away two years ago, who told me this would happen and always believed in me thank you so much for your inspiration. I adore you and you're inspirational for everybody.
""Madonna, for fighting for LGBTQ rights. Thank you so much, I don't think I could be here without Madonna.
"My mother, my mother believed me that I Was a girl and I wouldn't be here without her and her support.
"Everyone who believed in me to this point, I love you so much, this is a huge moment for me.
"Sam, you're a true hero and an angel and I love you. Everyone who helped make this song, I love you so much."
The pair scooped the accolade ahead of ABBA for 'Don't Shut Me Down', Camila Cabello and Ed Sheeran's 'Bam Bam', Coldplay and BTS' collaboration 'My Universe', and Post Malone and Doja Cat's 'I Like You (A Happier Song)'.