The New Democratic Party of Canada released a 16-year-old videotaped recording on Thursday in which Saskatchewan MP Tom Lukiwski was heard making racist and homophobic slurs. The New Democrats asked the prime minister to remove him from the party caucus.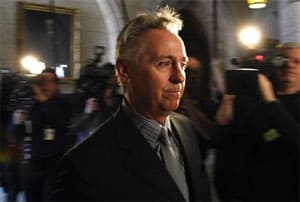 According to the Toronto Star, "The video captures a group of party workers including Brad Wall, now premier of Saskatchewan, and Senator Eric Berntson. It was shot on the night of a leaders' debate during the 1991 provincial election campaign at party headquarters. Some workers are drinking. There is a lot of profanity. Lukiwski, who was a 40-year-old Tory organizer at the time, appears on screen saying 'I may be old, but I'm f---ing A, eh.'"
Lukiwski then went on to explain: "Let me put it to you this way — there's As and Bs. The As are guys like me. The Bs are homosexual faggots with dirt in their fingernails that transmit diseases."
According to CANOE, "Pat Atkinson, the Saskatchewan NDP's deputy house leader, said the tape appears to have been made during the 1991 provincial election campaign. Lukiwski was a Tory organizer at the time and Wall was a ministerial aide. Her party found the tape after moving into Opposition offices last fall following a loss to Wall's Saskatchewan Party. She said there were also remarks on the video directed at the provincial Liberal leader at the time, Lynda Haverstock, about her gender. The federal Liberals demanded that Lukiwski be stripped of his parliamentary secretary status. "
Lukiwski apologized to reporters after the revelation. Said Lukiwski: "If I could take those comments back, I would. I would give anything to take those comments back. They do not reflect the type of person that I am. I can only say that on behalf of myself, my family and my children, I am sorry. I am ashamed."
Watch the clip, AFTER THE JUMP...
(clip via Queerty)