James Franco appeared on Jimmy Kimmel Live last night to talk about Pineapple Express but he seemed much more interested in talking about Milk, and his experience wearing a prosthetic penis in scenes with Sean Penn.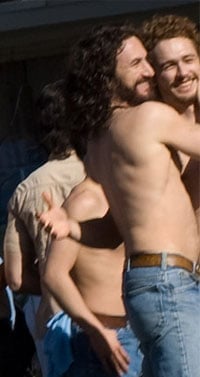 Said Franco: "When I read the script, there was like, one kissing scene. No problem. It's acting....So, but as soon as I signed on I get a new script. Page five, like, full-on love scene. There's like three to five new love scenes in the movie. Gus! What's goin' on? And he said, well, Sean wants it. Sean asked for the love scene."
Added Franco: "Sean's doin it. If he wants to do it, who am I to say no? So the first day of shooting I had to do this scene where everybody else is in clothes and I have to dive into the pool naked. And I was very uncomfortable but the make-up artist on the day handed me this prosthetic penis and said here, you can wear this. It'll make you more comfortable...The scene went on for a long time, like half the day. It's just getting old — diving into this pool naked. And I go over to Sean and I guess he didn't know I was wearing a prosthetic. And I said to Sean, 'You are such a great actor. You wouldn't do a scene like this if they asked . You wouldn't dive into the pool naked,' and he said, not knowing I was wearing a prosthetic he said, 'Well James, if I was built like you, I would.' I didn't say anything. Cut to a couple weeks later we did this scene. We're both dancing and we're both naked, and we both now had prosthetic penises. He finally put it together that I'm wearing the Boogie Nights prosthetic. And he said 'James that time in the pool!' And I said 'Yeah I was wearing the prosthetic.' And he said 'God, I'm so relieved.' And then, he's like 'You show me your prosthetic, I'll show you mine.'"
Watch it, AFTER THE JUMP...
You may have missed…
California Legislature Approves 'Harvey Milk Day' [tr]
James Franco Talks About Kissing Sean Penn [tr]
Danny Elfman Busy Scoring Gus van Sant's Milk [tr]
Sean Penn and Milk Get Some Fanfare [tr]