There have been tons of rumors circulating regarding then Mayor Sarah Palin's request to remove books from Wasilla's public library, including a debunked list of specific books.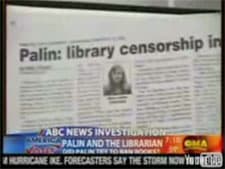 ABC did an investigation on the story. Palin reportedly asked the librarian what the policies were about removing books from the library. The librarian told her that the library's policies were based on national standards. A Palin ally claims the mayor's question was rhetorical. Palin fired the librarian soon after the meeting but she was reinstated after what ABC describes as an "uproar" from the town.
Watch it, AFTER THE JUMP...

(via boy culture)