The "delicious anguish" of planning apparently finished, George Takei will marry his longtime partner Brad Altman this weekend, the AP reports: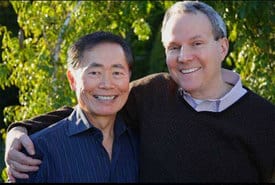 "George Takei will tie the knot with his boyfriend Brad Altman in Los Angeles Sunday. Nichelle Nichols — who played Uhura — will be their "best lady" and Walter Koenig — who played Chekhov — will be the best man. William Shatner was invited, but never replied, so he's not expected. Takei tells AP Radio 'we are overjoyed, ecstatic.' For his part, Altman says he 'can't live without George.' They've been together 21 years without a license, but Takei says he's not worried that making it official will change anything. He says they have 'a tested and stable relationship.'" After the ceremony, Takei and Altman will honeymoon in Argentina and Peru."
The couple actually obtained their license in June. The Star Trek element of their wedding emerged then as well, along with a report that Shatner had been left off the guest list.
Watch an interview the couple gave to CBS' Julie Chen in June, AFTER THE JUMP…