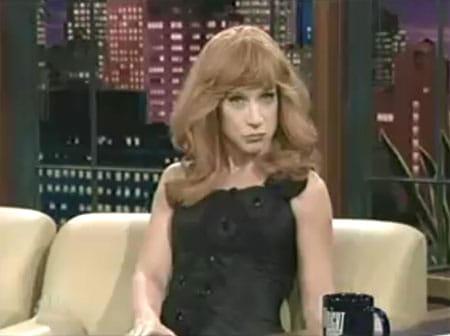 Kathy Griffin appeared on The Tonight Show Monday night and hit on all the usual suspects. Watch it, AFTER THE JUMP...
In related news, Griffin has tried to make up with Clay Aiken since his coming out, to no avail:
"The loudmouth comedian says she tried to make good with Aiken—whom she pegged 'Gayken' in her standup act long before he came out of the closet—backstage during Rosie O'Donnell's Thanksgiving variety show...'I held up one of those ghetto blasters playing one of Clay's songs, and I begged him to take me back and he said no,' Griffin said at last night's Grammy nomination concert in downtown L.A. 'And then I walked out of the room and Gloria Estefan said to me, 'I told ya—you shouldn't have gone in there alone.'' Griffin said she was, at the very least, hoping for some sort of thank-you or acknowledgement for her role in helping him come out. 'There were no words of thanks or even really any words at all, for that matter,' Griffin said. 'I would have to say he was not very nice.'"