Dustin Lance Black was announced winner of the best original screenplay for Milk from the Writers Guild of America, while Simon Beaufoy took the other top film award for his adapted screenplay for Slumdog Millionaire.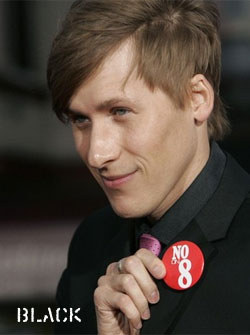 Variety reports:
"The 'Milk' scribe brought the award-season jaded crowd at the Century Plaza to its feet with his heartfelt call for the gay/lesbian/bisexual/transgender community to think "beyond Prop. 8" and demand that the federal government enact legislation affirming their equal protection under the law on a scale of the 1964 Civil Rights Act. Black (who says he generally drops Dustin and goes by Lance) may not quite be old enough to run for president (he was 4 when Harvey Milk was assassinated in 1978), but he knows his history. And he knows his showbiz history. He got a laugh in accepting his first award of the night by noting that 'Milk' wasn't 'the easiest subject matter to get produced. If you hadn't noticed -- it's pretty gay...and it's political.'"
Said Black to reporters in the press room: "I think America does love gay and lesbian people - a lot of them just haven't met us yet. A lot of us are invisible. We need to come out of this invisibility, we need to let people know that we're your aunts and uncles, your teachers and your truck drivers. This is not just about marriage."
Black also won the Paul Selvin Award, "Presented to that member whose script best embodies the spirit of the constitutional and civil rights and liberties which are indispensable to the survival of free writers everywhere."
The rest of the WGA awards, AFTER THE JUMP...
Other winners, via L.A. Times:
Documentary screenplay: "Waltz With Bashir," Ari Folman
Dramatic series: "Mad Men," Lisa Albert, Jane Anderson, Rick Cleveland, Kater Gordon, David Isaacs, Andre Jacquemetton, Maria Jacquemetton, Marti Noxon, Robin Veith, Matthew Weiner
Comedy series: "30 Rock," Jack Burditt, Kay Cannon, Robert Carlock, Tina Fey, Donald Glover, Andrew Guest, Matt Hubbard, Jon Pollack, John Riggi, Tami Sagher, Ron Weiner
New series: "In Treatment," Rodrigo Garcia, Bryan Goluboff, Davey Holmes, William Merritt Johnson, Amy Lippman, Sarah Treem
Long-form original: "Recount," Danny Strong
Long-form adaptation: "John Adams" ("Episode 1, Join or Die" and "Episode 2, Independence"), Kirk Ellis
Comedy/variety series: "Saturday Night Live," head writers — Seth Meyers, Andrew Steele, Paula Pell
Episodic drama: "Pilot" ("Breaking Bad"), Vince Gilligan
Episodic comedy: "Succession" ("30 Rock"), Andrew Guest & John Riggi
Comedy/variety specials: "2008 Film Independent Spirit Awards," Billy Kimball, Aaron Lee, Jennifer Celotta, Rainn Wilson
Animation: "Apocalypse Cow" ("The Simpsons"), Jeff Westbrook
Children's episodic and specials: "Elmo's Christmas Countdown," Joey Mazzarino
Children's script, long-form: "Polar Bears" ("The Naked Brothers Band"), Polly Draper
Daytime serials: "As the World Turns," Jean Passanante, Leah Laiman, Courtney Simon, Lisa Connor, David A. Levinson, Peter Brash, Richard Culliton, Susan Dansby, Cheryl Davis, Leslie Nipkow
Videogame writing: "Star Wars: The Force Unleashed," Haden Blackman, Shawn Pitman, John Stafford, Cameron Suey
Valentine Davies Award: Carl Reiner, Vicki Riskin
Paul Selvin Award: Dustin Lance Black