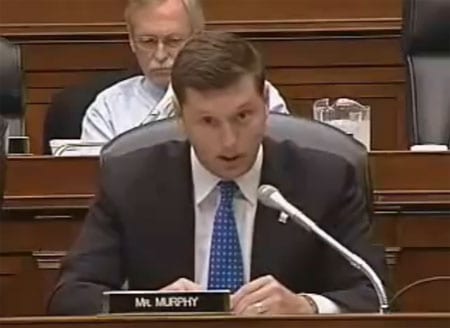 Iraq Veteran Patrick Murphy will take the lead in advancing legislation to overturn the military's "Don't Ask, Don't Tell" policy when Rep. Ellen Tauscher moves to the State Department to be President Obama's Undersecretary of State for Arms Control and International Security, Talking Points Memo reports:
"There's major symbolic significance to that move. Murphy is a member of the House Armed Services Committee and, more importantly, a Bronze Star winner and the first Iraq war veteran to serve in Congress."
Towleroad readers may also remember Murphy's thrashing of the anti-gay Center for Military Readiness' Elaine Donnelly at hearings before the House Armed Services Committee in July 2008. If not, I've re-posted it, AFTER THE  JUMP...
Donnelly recently rounded up a group of 1,000 anti-gay retired military officers to get behind her bigoted crusade to stop the repeal of the military's gay ban.