A rival group to the Log Cabin Republicans has been formed by one of its former officers, Ben Smith at Politico reports: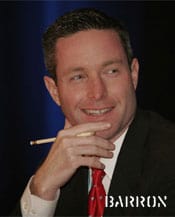 "GOPROUD, the new 527 group, will launch next week, according to a
media advisory. The contact given for the group is Christopher Barron,
a former Log Cabin political director who broke with the group. 'Essentially, there's no voice for gay Republicans or gay
conservatives in particular in D.C. right now. Log Cabin has been
completely and totally absent here in D.C. for months and months,'
Barron said…Barron praised local Log Cabin chapters but said the group has left a void in Washington. His group would, he said, focus on traditional Republican issues like private health care and private savings accounts. 'If your main issue is hate crimes or [federal anti-discrimination
legislation] or marriage, you're probably not a Republican,' Barron
said, saying that while he backs gay groups on those other issues, they
shouldn't be federal priorities."
In January, LCR was reported to be having a major financial crisis.