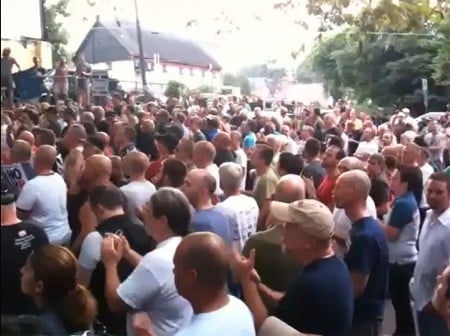 Hundreds turned out yesterday for a demonstration protesting a police raid on the Atlanta Eagle gay bar last Thursday in which patrons and staff were forced to the floor and roughly frisked while officers made derogatory comments.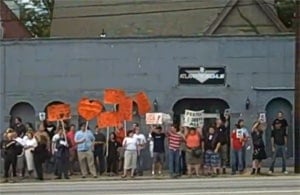 Eight people were arrested, according to officer Darlene Harris, APD's liaison to the gay community.
According to Harris: "When you're coming into a dark club, that's not well lit, and you have an unknown number of people inside the club, it is an officer safety concern as well. The individuals that were arrested were arrested for various charges, not just one. For operating a business without a license, for dancing without a permit. Those seem to be the two that have came in."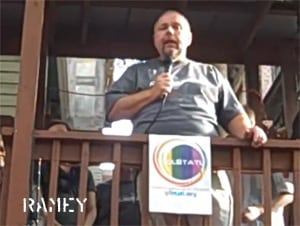 "John Curran says he was at the Atlanta Eagle Thursday night when both uniformed and undercover APD officers stormed the building and forced all 60-or-so patrons there to the floor.  Addressing several hundred demonstrators last night outside of the bar, Curran joined calls for a formal investigation. 'Thursday night was the first time I've ever felt like a second-class citizen. Thursday night was the first time I ever felt like a criminal for being at the right place at the wrong time. We were handcuffed, thrown to the floor, frisked, violently, lots of derogatory comments, and I'm sorry, I don't want to rehash that right now.'"
Bar owner Richard Ramey says the intent went far beyond a simple inspection: "Once they searched everyone, found no weapons or drugs, they said Well, I guess we'll have to go to the IDs next.' So they brought a laptop to see if they had any warrants or unpaid traffic tickets. They were fishing, they were looking."
Watch video clips of the protest, AFTER THE JUMP...