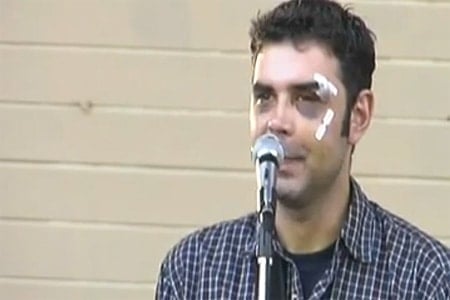 More than 1,500 people turned out for a vigil on Friday night in Thunder Bay, Ontario in response to the brutal beating of Jake Raynard (above), who was attacked with his friends outside a bar by a group of men last Saturday. Raynard sustained 15 cheekbone fractures, a broken jaw, eye socket, and upper palate, while helping his friends escape into a cab. Those responsible, who made remarks about Raynard's sexual orientation during the attack, have not been caught.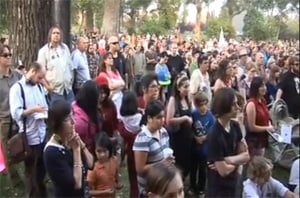 TBNewswatch reports: "After an initial speech by Raynard, the crowd walked from Waverly Park, down Camelot Street to North Cumberland Street where the attack took place and up Red River Road back to the park...The event had eight speakers including Raynard. They ranged from union leaders to church ministers. Speaker Louise McKissick said it's time for Thunder Bay to undergo a transformation. "Anger transformed into action can change things," said McKissick. "We need a community where diversity is not just tolerated but celebrated." Raynard said the next step for him after resting and healing is to advocate for several initiatives including an increased police presence in the North downtown core."
A great video report on the rally, AFTER THE JUMP...