UPDATED BELOW
Over the last week a scandal involving homophobic Evangelical Northern Ireland MP Iris Robinson, about whom I've written many times on Towleroad, has been unfolding. If you haven't read about it yet, here are the main points. Click through the links for much greater elaboration than I can provide.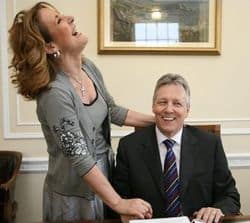 In June 2008, Robinson called homosexuality an "abomination" while discussing a homophobic attack on a man in which she also suggested that gays should seek therapy to "turn them around".
The recent scandal began when Robinson announced she was stepping down because of her mental health. Then, there was an admission she had an affair with a 19-year-old named Kirk McCambley to whom she funneled $80,000 in secret loans from property developers to finance his investment in a cafe near Belfast.
Watch a recent report on "The Beginning of the Affair" from the BBC, AFTER THE JUMP...
It appears that the whole affair and scandal has the potential to bring down the entire government, as Robinson's husband is the province's unionist first minister, the NYT reports:
The revelations come at a critical time, when the mostly Protestant unionists and mostly Catholic republicans are in increasingly bitter discussions about how to put in place one of the last and most difficult pieces of the United States-brokered power-sharing agreement: the transfer of police and justice powers in the province from British officials to the unity government.

The transfer would be a step of historic significance for republicans, who viewed the police as a paramilitary arm of the unionists during the 30 years of "the troubles" that left 3,500 people dead. But it raises alarms among unionists, who fear that their republican partners will not adequately pursue and punish dissident republicans who have rejected the unity government and mounted a deadly campaign of bombings and assassinations in recent months.

Mr. Robinson's fate is crucial to the future of the agreement; as negotiations have dragged on months beyond the deadline for transferring police power, both sides have become more entrenched in their positions. If Mr. Robinson were forced from power, analysts say, there would be little chance of any new unionist leader risking the wrath of his followers by moving ahead with the deal.

When the leaders of the shared government left for their Christmas break in a state of angry impasse, both sides warned that the shared government, which took office more than two and a half years ago, could collapse early in the new year.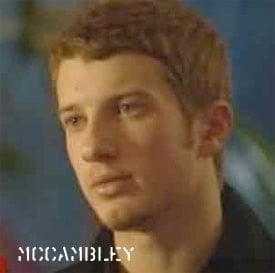 In related news, Gay UK activist Peter Tatchell said, "I'm sorry for the pain that Iris Robinson has suffered but she's a hypocrite. Even now, despite her own adultery, she expresses no regret for her harsh, judgemental moralising against gay people. She is sad and two-faced. It is terrible that Iris Robinson has been driven to attempted suicide and a mental breakdown. I feel very sorry for her. But it is a great pity that this painful experience has not softened her heart towards the suffering of lesbians and gay men. Even now, she expresses no regret for her harsh, judgemental moralising against gay people. Iris seems as unforgiving as ever. She's still unrepentant about her homophobia."
And the UK's gay magazine Attitude wants Robinson's then 19-year-old lover on its cover: "Kirk is incredibly hot and we'd love to see him on the cover of Attitude. We think our readers would go as wild for him as Iris obviously did. We'd love for him to get in touch. We've put in a few calls to the Lockkeeper's Inn but no one has answered the phone."
UPDATE: Robinson had affair with 19-year-old's father, and another man as well! "Meanwhile, it emerged this weekend that Iris Robinson also had an affair with 19-year-old Kirk McCambley's father, a butcher who died from cancer. She had another affair with a fellow DUP member in the 1980s which was witnessed by the security forces."
Watch a recent report on "The Beginning of the Affair" from the BBC, AFTER THE JUMP...