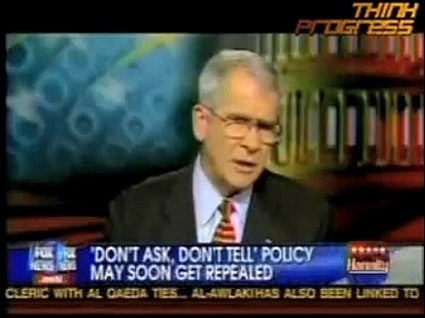 In a Sean Hannity segment, Oliver North warns of NAMBLA members entering the U.S. military if "Don't Ask, Don't Tell" is repealed, Think Progress reports.
Says North: "Barack Obama now intents to treat [our soldiers] like lab rats in a radical social experiment, and it can be very, very detrimental. In other words, this isn't about rights. This isn't about fairness. It's all about national security. And apparently, Mr. Obama has forgotten it. Now, here's what's next. NAMBLA members, same-sex marriages. Are chaplains in the U.S. military going to be required to perform those kinds of rituals? Do they get government housing?"
Watch, AFTER THE JUMP...