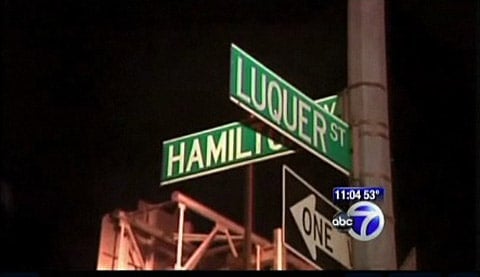 Police are investigating a possible hate crime by five men on another man in the Carroll Gardens section of Brooklyn, local news outlets are reporting.
"A young man was severely beaten by five men shouting anti-gay slurs. It happened in the Carroll Gardens section at Luquer Street and Hamilton Avenue. It was shortly after 8 p.m on Tuesday, March 2, when the five suspects jumped the victim, punching and kicking him. The 22-year-old victim suffered severe bruises and a head laceration."
Writes the NY Post: "The 22-year-old victim had just left a gay and lesbian event at a pizzeria in Carroll Gardens at around 12:50 a.m. on March 2 when he was followed..."  
Watch ABC7's and FOX's report, AFTER THE JUMP...
Said City Council Speaker Quinn: "I was appalled and sickened to learn of last weeks anti-LGBT hate crime in Carroll Gardens. New York City's greatest strength is our diversity. All New Yorkers should be free to walk our streets without fear of being attacked for who they are or who they are perceived to be." "The victim of last weeks attack was simply walking on the street when he was beaten by a group of men while being called anti-gay epithets. This is outrageous and unacceptable. We thank the NYPD for their swift response to this case, and urge the alleged perpetrators to turn themselves in immediately. They and any other bigots need to know that the NYPD responds in full force to any and all hate crimes."
Added Councilmember Brad Lander: "Carroll Gardens is a diverse community. We have no room for hate in our community. We embrace every race, religion and sexual orientation. We will not tolerate hate and violence in Carroll Gardens or anywhere else in New York City."
Watch ABC7's and FOX's report, AFTER THE JUMP...