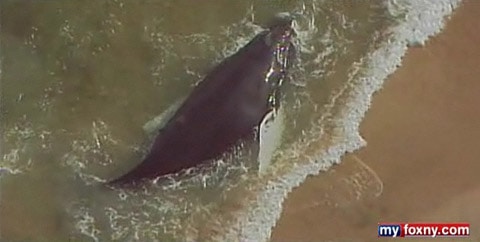 A humpback whale less than a year old beached itself at East Hampton, Long Island today. Wildlife experts say it has little chance of survival.
ABC7 reports: "It's a heartbreaking scene as wildlife experts from the Riverhead Foundation, which monitors and helps marine wildlife across easter Long Island, try to help the 25-foot, 5-ton whale. They say the whale somehow separated from its mother, and because whales under 2 years old rely on their mother's milk, the situation appears to be dire and the whale is unlikely to survive...Possibly the most heartbreaking part of the story is that there have been several sightings of another whale in the Atlantic. Experts say it is impossible to know if that whale is the beached whale's mother or a relative."
Watch MyFOX NY video, AFTER THE JUMP...