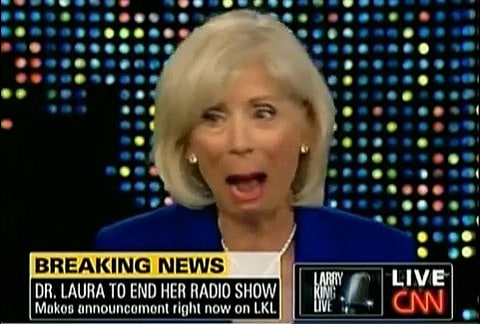 Dr. Laura Schlessinger told Larry King last night that condemnations following her use of the N-word 11 times on her radio show last week have made her decide to end the show:
"Well, I'm here to say that my contract is up for my radio show at the end of the year and I have made the decision not to do radio anymore. The reason is: I want to regain my First Amendment rights. I want to be able to say what's on my mind, and in my heart, what I think is helpful and useful without somebody getting angry, some special interest group deciding this is a time to silence a voice of dissent, and attack affiliates and attack sponsors...I'm sort of done with that. I'm not retiring. I'm not quitting. I feel energized actually, stronger and freer to say the things that I believe need to be said for people in this country...I write books. I have blogs. I have my Web site...This is the area -- this is the era of the Internet."
Watch, AFTER THE JUMP...
In 2000, a coalition of gay activists launched a Web site, StopDrLaura.com, and organized protests and boycotts across the United States and Canada in response to her comments about homosexuality, which she referred to as a 'biological error.' They were also angered by her outspoken stance against adoption by same-sex couples, and remarks in which she said that a 'a huge portion of the male homosexual populace is predatory on young boys.' Dr. Schlessinger apologized for many of her comments, but many of her advertisers left her radio show, and a television show she started in 2000 was ended a year later. On the Web site StopDrLaura.com Tuesday night, a headline at the top of the home page declared, 'We Stopped Dr Laura.'"