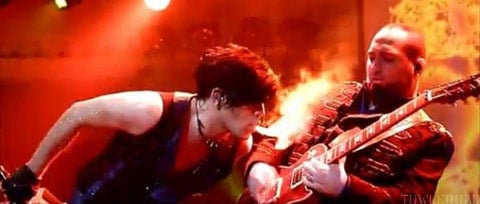 Adam Lambert tuned in, toked up, and made out at an Amsterdam gig.
During a rendition of Jimi Hendrix's "Purple Haze", Lambert "kissed a guy, grabbed his crotch and proceeded to smoke a joint on stage. Afterward, he stuck his microphone in his mouth!"
Via Earsucker: "Guy kissing: 1:04, 8:00-8:14; Crotch grabbing: 1:14; Pot smoking: 1:53, 4:09; Microphone sucking"4:39
Watch, AFTER THE JUMP...