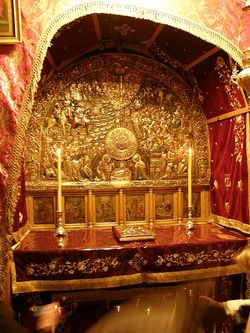 The Christmas spirit was nowhere in evidence last weekend at Bethlehem's Church of The Nativity, where clerics of the Greek Orthodox and Armenian churches came to blows on Christmas Eve while cleaning the building in preparation for holiday services. According to Reuters, about 100 "holy men" duked it out with brooms and fists, fighting over territory in the 1,500-year-old building.
According to tradition, a silver star in a cave beneath the church's "Basilica of The Nativity" marks the place where Jesus was born.
Watch the clerics go at it AFTER THE JUMP ...