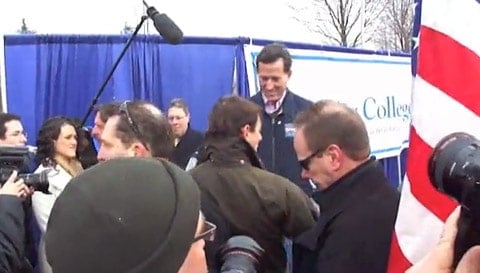 As he was finishing a campaign stop at Rivier College in Nashua, NH today, someone in the crowd asked Rick Santorum if he would abort a gay baby. The candidate just groaned and moved on.
At a separate town hall, Santorum was asked about his ability to beat Obama given his extreme positions on social issues, Think Progress LGBT reports.
Said Santorum: "Everyone on the stage yesterday and the day before has pretty much has the same exact position I have on those social issues. President Obama says he has the same position I have on gay marriage. The only difference is between myself and any of them is that when somebody asks me a question I answer it."
Watch both clips, AFTER THE JUMP...