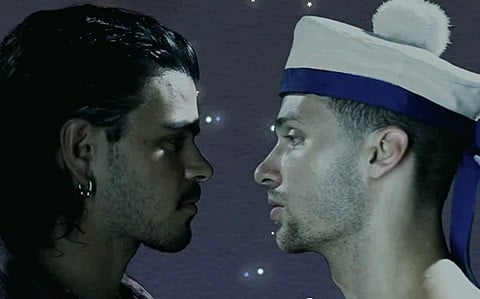 Brooklyn-based rock duo KINGSHIP (Paul Leschen and Chris Hall) dropped a dreamy video for their track "Wandering Sailor" today, along with a hot and eclectic cast: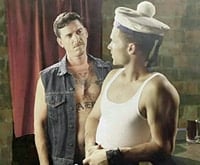 Featuring the best crew a captain could dream of: his Majesty the Gay Pimp himself Jonny McGovern and, as his sailor boytoy, Brad Cheyne; world-sensation and sensational Drew Droege (aka "It's recently come to my attention" Chloë Sevigny) as the Madam; super-talented Julie Goldman as the drag-king bouncer; the hilarious Tanya McClure as the one-eyed barmaid; beautiful sailorgirl Brandy Howard; badboy patron James Hawkins; Sebastian Thomas Johnson as the hunky backroom trick (real tats included); and dreamy Wandering Sailor, Jonah Wharton.
It's the band's first video clip, and I'd say quite a success.
Check it out, AFTER THE JUMP...