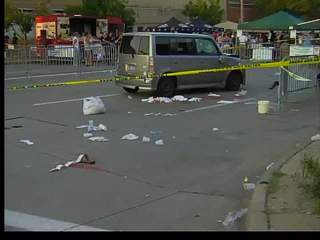 A drunk driver crashed through "Dancin' in the Streets", one of Cleveland's largest LGBT fundraisers run by the AIDS Taskforce of Greater Cleveland, on Sunday night, killing a man, NewsNet5 reports:
MetroHealth Medical Center said Mitchell Andelmo has passed away. Constance Pokorny is in critical condition. Officials said at least three others were injured.A message posted on Facebook reads: "Mitch was amazing and we will always remember him for his positive attitude and short shorts. We love you Mitch! Please keep his girlfriend Constance in your thoughts, as she was hit as well." Cleveland and Lakewood police departments said the driver, a 35-year-old Lakewood man, was drunk.
Watch a news report, AFTER THE JUMP...