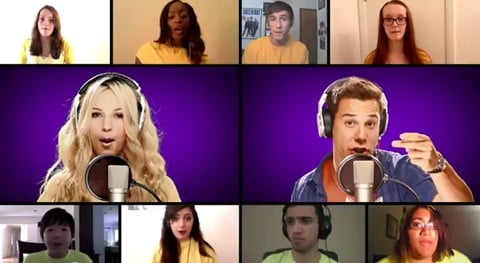 Last night I had the opportunity to see a special screening of Pitch Perfect (trailer here), the new forthcoming film about rival college a cappella groups, and it's a hilarious collision of Glee, Mean Girls, and gross-out American Pie-style humor (and it'll also give you a warm-and-fuzzy nostalgia for the 80's). It's also directed by Jason Moore, the original director of Avenue Q on Broadway.
Here's a clip of the cast joining YouTube a cappella pro Mike Tompkins (you may recall his incredible version of Coldplay's "Paradise") and a bunch of random YouTubers for a performance of Nicki Minaj's "Starships".
Enjoy.
Watch, AFTER THE JUMP...