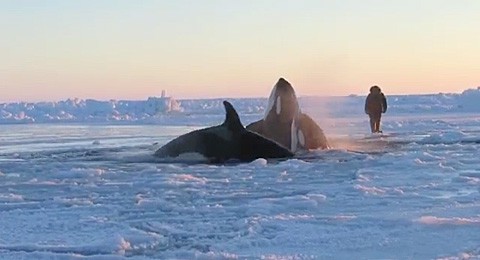 A pod of killer whales that had been trapped under sea ice in northern Quebec are now free, according to the town's mayor. The whales had been frantically surfacing for air through a small hole in the ice.
Some good news from the North, via NBC News:
Two scouts sent to check on the killer whales around 8 a.m. local time found a passage of water had been created in Hudson Bay all of the way to the open sea – nearly 25 miles away -- and the ice hole that the marine mammals had been trapped in was empty, said Petah Inukpuk, mayor of Inukjuak, a remote Inuit village home to 1,800, in Quebec.
"They are free. They are no longer here. When there is a new moon, the water current is activated. It could have helped … completely trap them, but in this case it caused an open passage out to the open water," he told NBC News, adding that they probably were freed overnight. "It was mother nature that helped them. ... They are no longer icelocked."
I've reposted the video of the trapped whales shot yesterday, AFTER THE JUMP...