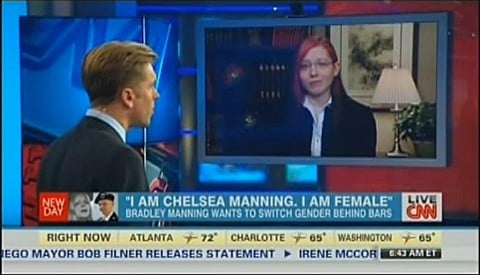 Lauren McNamara (aka Zinnia Jones), an activist and friend and former defense witness for Chelsea Manning explains why hormone therapy is a medical necessity for trans people and why Chelsea ought to be treated in prison:
"We sentence people to incarceration. We do not sentence them to untreated medical conditions. We don't sentence them to untreated gender dysphoria just as we don't sentence them to untreated kidney failure, untreated infections, or anything else of the sort. When the government takes on inmates and incarcerates them, it becomes responsible for their medical care. And this condition from a medical and scientific perspective is no different from any other medical condition that requires treatment. And increasingly from a legal perspective as well. Civilian courts have found in almost all cases that prisons are required to provide hormone therapy and increasingly surgery as well. Not to do so is considered cruel and unusual punishment under the Eighth Amendment."
Watch, AFTER THE JUMP...