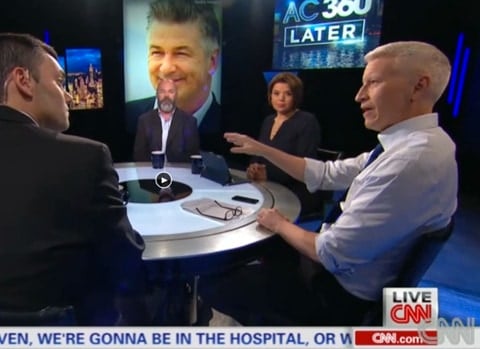 Anderson Cooper stepped up his criticism of Alec Baldwin in a Monday night segment that also featured blogger Andrew Sullivan, who last week wrote several posts criticizing Baldwin for calling a photographer a "c--ksucking fag".
Watch the segment, AFTER THE JUMP...
Said Cooper to his panel:
"If Alec Baldwin had yelled the N word to that photographer or yelled an anti-Jewish slur against that photographer, it would be over. But the F word is a word that kids are called in school every single day. Teachers often do nothing about it."
Added Sullivan:
"And it's important to note that all this stuff is laced with a threat of violence. All of these instances are also about 'I'm going to get you.'"
Watch the segment, AFTER THE JUMP...
Baldwin's show was suspended for two weeks by MSNBC over his use of the slur. In a Huffington blog post over the weekend, he defended himself of charges he is a "homophobic bigot", but also couldn't resist a potshot at Anderson, saying:
But if the show dies, its fate ends up being no different than the vast majority of start-up TV programming, and so be it. We do take a small amount of pride in knowing that we beat CNN in the ratings each of our nights. (I forget who they had on at that time.)
Previously...
Gay Hairdresser Defends Alec Baldwin, Says Gays Love Him Even More Now: VIDEO [tlrd]
Alec Baldwin Suspended Two Weeks for Gay Slur [tlrd]
Alec Baldwin Uses His Gay Hairdresser to Prove He's Not a Homophobe [tlrd]
Alec Baldwin Hurls Ugly Anti-Gay Slur at Photographer on NYC Street [tlrd]