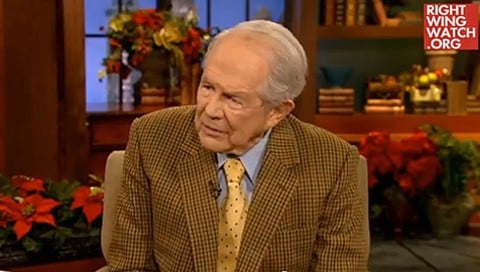 On today's 700 Club, Pat Robertson answered a question from a viewer who was worried about inviting a lesbian friend over to her home, Right Wing Watch reports. Robertson responded that she is right to be wary because if her kids see a lesbian they might decide to become one.
Says Robertson:
"You keep love, you loved her, you were close and your influence may have something significant to her, the idea is you don't gain anything by shunning. But at the same you don't want your children to grow up as lesbians, that's what you're talking about, you don't want to show them that that's an acceptable lifestyle for your family....It doesn't hurt to tell somebody: I love you, we are going to do what we can to be friends if we can. I have my lifestyle, it's Christian and you have yours, it's not; I'm sorry we can't indulge in certain things together."
Watch, AFTER THE JUMP...