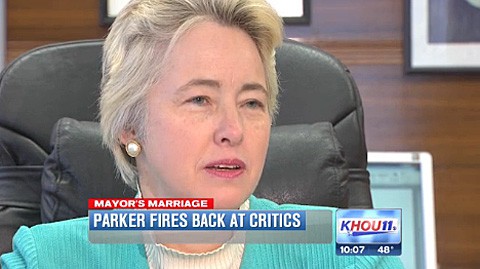 Houston Mayor Annise Parker was attacked by several Republicans for leaving Texas last week to marry her longtime partner Kathy Hubbard in Palm Springs. The Republicans said her marriage is politically motivated, KHOU reports.
Said State Senator Dan Patrick of Parker's nuptials:
"I am not shocked that Mayor Parker decided to elope to California for a marriage that is unconstitutional in Texas. This is obviously part of a larger strategy of hers to turn Texas into California."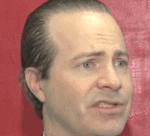 Harris County Republican Chairman Jared Woodfill (right) made similar accusations.
Parker blasted the criticism:
"Dan Patrick's running a political campaign. And he wants to make the gay community a whipping boy in that political campaign. And he thought I was an appropriate target. He doesn't know what he's talking about. And I don't think that's unusual....
Said Parker of Woodfill (not in clip): "Mr. Woodfill is a little like a windup doll. I say something and he goes on TV and says this is something I planned. It's part of my grand agenda to promote gay rights."
Parker is not having the criticism, nor should she:
"You don't commit 23 years of your life to someone to make a political statement...I took four days off. I had to leave my home state and make a little wedge of time to marry the woman I love. They can get over it."
Watch, AFTER THE JUMP...