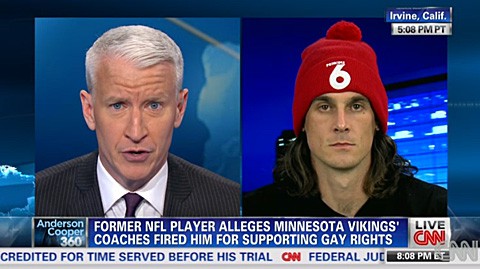 Former NFL punter Chris Kluwe joined CNN's Anderson Cooper and MSNBC's Chris Hayes last night to discuss claims he made last week regarding homophobia at the Minnesota Vikings organization and objections to his gay rights advocacy which eventually led to him being released from the team.
"I made sure that I had witnesses because that's a very easy defamation of character case and it would be pretty easy for him to prevail in a court of law...I am 100% confident in everything I related is how it happened and really encouraged by the fact that the Vikings are taking it seriously and opening an investigation because I think once they talk with people they'll find out what happened."
Anderson noted that the investigation does not have subpoena power so it's up to players to cooperate and asks Kluwe if he thinks players will come forward.
"I'm confident because it's the right thing to do. One thing that I'm going to push for is there must be anonymity for these witnesses because being black-balled in the NFL is a very real possibility and this is not something I'm going to force my friends to submit to..."
Said Kluwe to Hayes about the possibility of an openly gay player coming out sometime soon:
"This doesn't just happen to me. This happens to millions of people across the country. But things are getting better. Progress is being made. At the same time, we can't just be content with the progress that's been made. We have to strive for more progress so that when that player does come out they know that they have support..."
Watch both clips, AFTER THE JUMP...