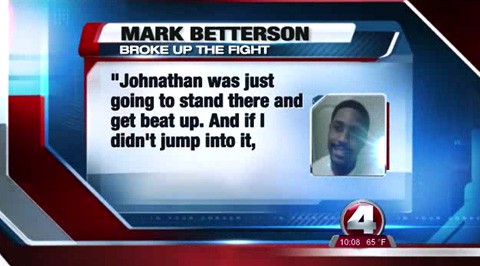 Mark Betterson, a student at East Lee County High School in Lehigh Acres, Florida, was suspended for 10 days after trying to stop another student from beating a gay student, WFTX reports:
Mark Betterson says he realized he had to do something when he saw a fellow student throw milk in another's face, use gay slurs, and then start to hit him. James Griffin, 18, is charged with battery. His alleged victim, 18-year-old Jonathan Colon, who is openly gay, walked away with bruises on his head. Many who saw the fight say it could have been worse if Betterson didn't step in.
Said Betterson: Johnathan was just going to stand there and get beat up. And if I didn't jump into it, it would have gotten serious. I was just trying to break up the whole thing because it's jst not fair for somebody to get beat up for something that he is."
Watch (warning: autoplay), AFTER THE JUMP...