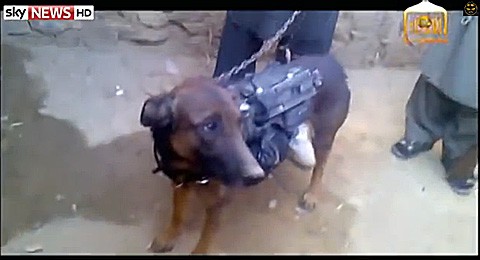 Taliban forces in Afghanistan recently captured a military dog, a Belgian Malinois, in the first known instance of a dog being taken as a prisoner of war. Evidence of the captor was posted to Twitter this week by a known disseminator of Taliban propaganda, the WaPo reports:
A Taliban spokesman, Zabiullah Mujahid, said the dog was captured after a long firefight between coalition forces and Taliban fighters in the Alin Nigar district of Afghanistan's Laghman province in late December.

"The mujahideen valorously put tough resistance against the troops for hours," he said in a phone interview Thursday. The dog, he said, carries the rank of colonel and was outfitted with sophisticated electronic devices.

"The dog was of high significance to the Americans," he said.
The U.S. military has confirmed that the dog was captured after it was attached to a British special forces unit. It wears a protective vest and carried rifles and a GPS device that Taliban fighters hold in the video.
The dog can be seen looking sheepish and confused in the video.
"I know for sure the handler is devastated," [Kevin Dredden, a former Air Force dog handler and Afghanistan veteran] said, noting the tight bonds that handlers and military dogs forge.

Dogs are given ranks that make them senior to their handlers, a practice designed to ensure that the humans treat the animals with deference. They have a rank patch on their body armor.
Watch the video, AFTER THE JUMP...