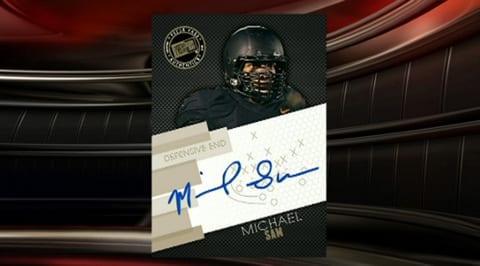 Michael Sam has signed autograph deals with five trading card companies, ESPN reports.
The network's Mint Condition segment spoke with Press Pass, one of the companies that is producing Michael Sam cards and they say interest is extremely high:
Press Pass, whose first product hits stores March 5, signed Sam even though his autograph won't be in packs of its first series.
"We normally focus on defensive players that are most likely to get drafted in the first two rounds, so Michael was originally one of our alternates," said Nick Matijevich, vice president of operations for Press Pass, which has signed 70 players to autograph deals, including Johnny Manziel, Jadeveon Clowney and Teddy Bridgewater. "But the news made his inclusion a no-brainer."
Matijevich said collectors who send in the UPC code from the box will receive an autographed Sam card while supplies last.
"We're excited to see how collectors will receive him," Matijevich said.
Sam will also have autographed products with Topps, Upper Deck, Panini, and Sage.
Watch ESPN's Mint Condition report, AFTER THE JUMP...