Rush Limbaugh says Arizona Governor Jan Brewer is being bullied into signing SB 1062, the bill that would allow businesses to discriminate against gays based on religious beliefs, Politico reports: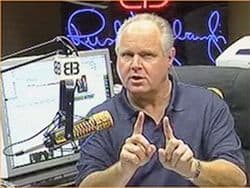 "Religious beliefs can't be used to stop anything the left wants to impose, unless they're Muslim religious beliefs and then we have to honor those. But any other religious beliefs are not permitted," Limbaugh said. "The left will not allow them. Now, the current thinking is that Gov. Brewer will probably veto the bill, which, you might think on the face of it will make her a hero with the news media and the rest of the left."
Sure, it might make her a hero, he said — "for five minutes." And then she'll go back to being a "near criminal conservative Republican," Limbaugh continued, because "their reaction will be, what took her so long? Why did she even consider not vetoing this?"
"She's being bullied by the homosexual lobby in Arizona and elsewhere," he said. "She's being bullied by the nationwide drive-by media, she's being bullied by certain elements of corporate America in order to advance the gay agenda. I guess in that circumstance bullying is admirable. In fact, this kind of bullying is honorable."
Listen to Limbaugh's rant, AFTER THE JUMP...