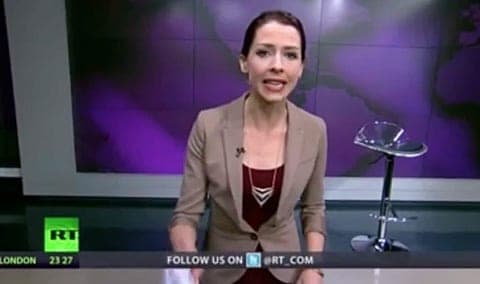 Russia Today anchor Abby Martin took a moment at the end of her broadcast to speak out against Russia's occupation of Ukraine.
Said Martin:
"Just because I work here for RT doesn't mean I don't have editorial independence and I can't stress enough how strongly I am against any state intervention in a sovereign nation's affairs. What Russia did was wrong..."
Martin called the coverage of what Russia is doing in Ukraine "truly disappointing" and "rife with disinformation." She called the Ukrainian people "the real losers here."
Watch, AFTER THE JUMP...
RT is funded by the federal budget of Russia through the Federal Agency on Press and Mass Communications of the Russian Federation.
Previously...
G-7 Leaders Issue Joint Statement Condemning Russia's Ukraine Violation [tlrd]
Will Russia Invade Ukraine or is it Already Happening? [tlrd]
Partition Ukraine Now Before It Is Too Late [tlrd]
What Putin Really Wants with Crimea [tlrd]