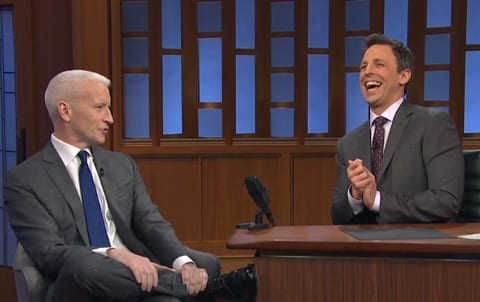 Anderson Cooper assumed Seth Meyers was gay after meeting him at the gay gym, he told the Late Night host:
"It was pretty much the gayest gym on the planet and I assumed you were gay because there weren't a lot of other reasons to be there."
Meyers tells Anderson that it was before he came out so he assumed Anderson was straight.
"Now that we've set the record straight that I'm not gay..."
"Oh sure whatever, if that's how you want to play it Seth, go right ahead."
They go on to talke about Anderson's almost marriage to Steffon, his appearances on SNL, 'mini-Cooper', his work as a child model, his obsession with Malaysia 370 and the crazy theories that people send him, Russia and Ukraine, faking his credentials as a cub journalist and sneaking into wars.
Watch, AFTER THE JUMP...