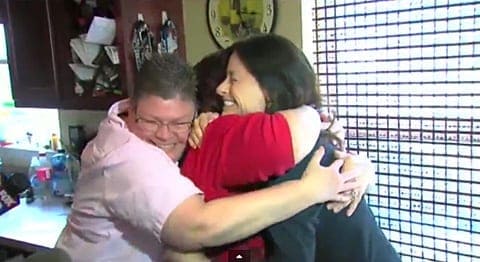 A federal judge has struck down Michigan's ban on same-sex marriage.
Back in September 2012 Towleroad posted about April DeBoer and Jayne Rowse, a Detroit couple suing the state of Michigan over its ban on gay adoption, who expanded their lawsuit to take on the state's marriage amendment. In March 2013 we reported that Federal Judge Bernard Friedman stayed his decision in the matter until after the Supreme Court ruling on DOMA. And last July, Friedman ruled that the couple could proceed with their challenge.
Watch the couple react to the ruling, AFTER THE JUMP...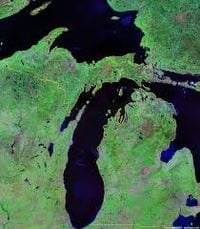 Today, Friedman, a Reagan-appointed judge, struck down the state's ban, the Detroit Free Press reports:
Michigan Attorney General Bill Schuette filed an emergency request for stay of Friedman's ruling.

"In 2004 the citizens of Michigan recognized that diversity in parenting is best for kids and families because moms and dads are not interchangeable. Michigan voters enshrined that decision in our State constitution, and their will should stand and be respected. I will continue to carry out my duty to protect and defend the Constitution," said Schuette.
According to Schuette, Friedman did not follow the trend sent by other federal judges handling similar cases across the country, Judge Friedman did not stay his ruling pending the outcome of appeal.
DeBoer and Rowse are raising three special needs children and want to marry and adopt each other's children. Friedman's decision came after a two week trial in which several right-wing marriage and parenting "experts" took the stand. One, Sherif Girfis, was dismissed by the judge outright, saying he had nothing to offer.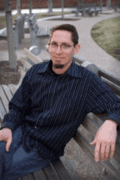 Another, the UT researcher Mark Regnerus, whose right-wing-funded, biased parenting studies have been thoroughly discredited and debunked, took the stand even as the Sociology Department at the University of Texas, where Regnerus is employed, blasted his work as "fundamentally flawed" and distanced themselves from Regnerus' toxic views.
Here's what Friedman said about Regnerus:
"The Court finds Regnerus's testimony entirely unbelievable and not worthy of serious consideration. The evidence adduced at trial demonstrated that his 2012 'study' was hastily concocted at the behest of a third-party funder, which found it 'essential that the necessary data be gathered to settle the question in the forum of public debate about what kinds of family arrangement are best for society' and which 'was confident that the traditional understanding of marriage will be vindicated by this study.' ... While Regnerus maintained that the funding source did not affect his impartiality as a researcher, the Court finds this testimony unbelievable. The funder clearly wanted a certain result, and Regnerus obliged."
The Free Press adds:
Friedman...sided with the plaintiffs: two Hazel Park lesbian nurses who argue the state has no "rational basis" for denying them the right to get married and adopt each others' children.
Read the ruling here.