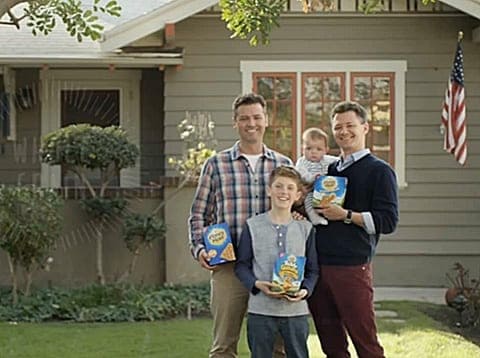 Honey Maid, the nearly 100-year-old graham cracker brand, salutes a diverse group of families in its new ad, which declares:
"No matter how much things change, what makes us wholesome never will...Honey Maid...Everyday wholesome snacks for every wholesome family."
In an ad that feels designed to make the heads of conservative AFA group One Million Moms explode, a gay family, an interracial family, and a tattooed punk rock musician and single father represent the iconic brand.
Said Gary Osifchin, senior marketing director for biscuits at Mondelez, in a statement printed by AdAge:
"We recognize change is happening every day, from the way in which a family looks today to how a family interacts to the way it is portrayed in media. We at Honey Maid continue to evolve and expand our varieties to provide delicious, wholesome products so they can be a part of everyday moments of connection in a world with changing, evolving family dynamics."
Watch the ad, AFTER THE JUMP...